Here is fun item for the do it yourselfer, mineral makeup lover, or craft maven: Make Your Own Mineral Makeup Kits from Bramble and Berry. I spent a morning playing with the neutral and metallics kit and had a lot of fun. I also got some decent eye shadow from the process.
Below are some of the items before I got started (I supplied the larger measuring spoons and larger baggie). The entire kit contains: Titanium Dioxide, Dry Flo, Kaolin Clay, Sericite Mica, Super Pearly White, and the following pigments: Gold Sparkle, Bronze, Honeyed Beige, Sparkle Copper, Cappucino, Heavy Metal Gold, Vintage Grey, Patina Sheen, & Luster Black Mica. There are also 2 eyeshadow brushes, 5 mini measuring scoops, and 10 black containers to fill with your creations.
The kit contains all that you need to custom blend mineral foundation in varying levels of coverage and a variety of eye shadow shades. It also includes a booklet with recipes for various shades and well written instructions. I decided to make a light, medium and dark brown.
To get started, I followed the directions for a matte base and then added color from the included pigments according to recommendations in the book. It is fairly easy to increase or decrease shimmer by changing the mix of the base. The kit also contained a light brown sample. I didn't end up matching that, but I liked what I got. My attempt at light was more of a neutral beige and my medium and dark turned out to be differing shades of taupe. Then I decided to make a darker brown/gray by adding a bunch of the darkest pigment. Mixing is pretty easy. Simply measure into a ziplock baggie, seal it, and shake! However, for mineral foundation, using a food processor or coffee blender to thoroughly mix the makeup is recommended.
Below are my finished eye shadows, the one on the far left is the light brown sample that came with the kit: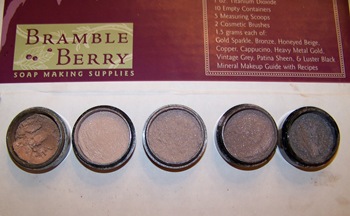 Here are skin swatches in the same order:
Oh, and I made a mess. Clutzy people like me probably should be more careful with shimmery loose powders! Fortunately it also was very easy to clean up.
Overall, I had a lot of fun with this kit and I liked the results. It would be a great gift or something fun for your inner do it yourselfer. There is also a kit for vivid eye shadow shades.
Bramble and Berry actually specializes in soap making supplies, so if you have an interest in that, also take a look at the rest of their site. In addition, they have a lip balm kit, that I just might have to try for Girl Gloss!
Comparison Shop for Mineral Makeup