I found this article from Total Beauty on the best inexpensive eye liners to be rather interesting. Most of my personal favorites are under $10, although I must admit that I love a few of the MAC liners that come in over that amount. I also adore Make Up Forever Aqua Eyes liners. The shade range on those is incredible!
I also adore cream and gel liners applied with a brush, and sadly none of that type are on the list. For a great gel liner close to$10 (it is $12) look at the L'Oreal HIP Color Rich Cream Eyeliner
.
If MAC, Clinique and Lancome are too pricey, you'll be glad you "settled" for these drugstore gems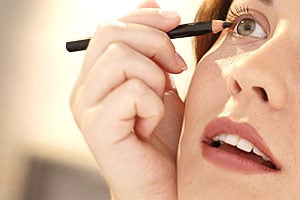 TotalBeauty.com members share convincing reviews that yes, you can get a reliable eyeliner for less. See which brand won the most praise.
No. 18: CoverGirl Outlast Smoothwear All-Day Eyeliner, $6.99
TotalBeauty.com average member rating: 8.2*

Why it's great: "This is my No. 1 favorite eyeliner. It's not too dark but it's dark enough to make my eyes look sexy. [Espresso is] a rich brown [that's] good for fair-skinned girls. It stays on all day so you don't have to worry."
— loveb4ever320, TotalBeauty.com member
TotalBeauty.com average member rating: 8.3*

Why it's great: "First the price: dirt cheap, relatively speaking. I like the super-slim application brush; it gives me more control, and I like the consistency, which also makes application easier. After MUCH practice, I've gotten pretty adept at applying this."
— persimmon, TotalBeauty.com member
No. 16: Almay Intense I-Color Play Up Liquid Eyeliner, $7.49
TotalBeauty.com average member rating: 8.5*

Why it's great: "I've tried the amethyst and the topaz. Both are easy and apply a beautifully precise line if you keep a few simple steps in mind: Line in short strokes, and wait a minute or so before blending or applying mascara. [It's] a nice addition to an eye wardrobe!"
— alykitt, TotalBeauty.com member