The Shop MAC-Cook MAC Collection is full of fun spring shades. For soft shades, look to the Vera collection, while for shades that shout, look to Shop MAC and Cook MAC. Shop MAC includes three new eye shadow quads which I have photos and swatches of below.
First up is the Shop MAC Call Me Bubbles Palette.
From  right to left are Call Me Bubbles swatches of the shades Call Me Bubbles, Fresh Daily, Full of Flavour, and Brash
Next is the MAC Shop and Drop Palette.
From left to right are Shop MAC swatches of the Shop and Drop shades Fresh Daily, Hypnotizing, Power Boosted, and Shop and Drop.
Finally, there is the Colour Added quad.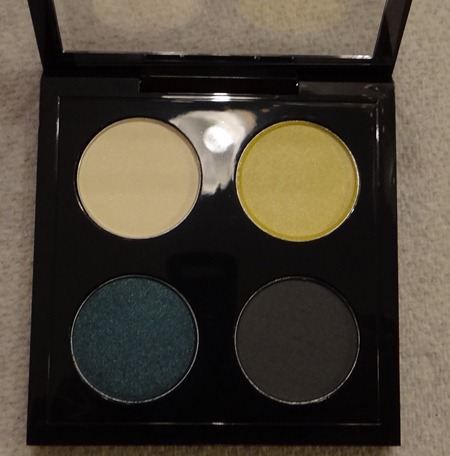 Below are MAC Colour Added swatches with the shades Laundry Daze, Colour Added, Pre-Packaged, and Self-Serve.
The pigment in the quads is pretty good. I have had a few times with recent collections where I thought the pigment was not as strong as it should be for MAC, but these tend to live up to the quality I would expect, and some of the colors are pretty interesting as well.
Disclosure: This review is based on items provided to me by MAC. For for, please refer to our disclosure page.