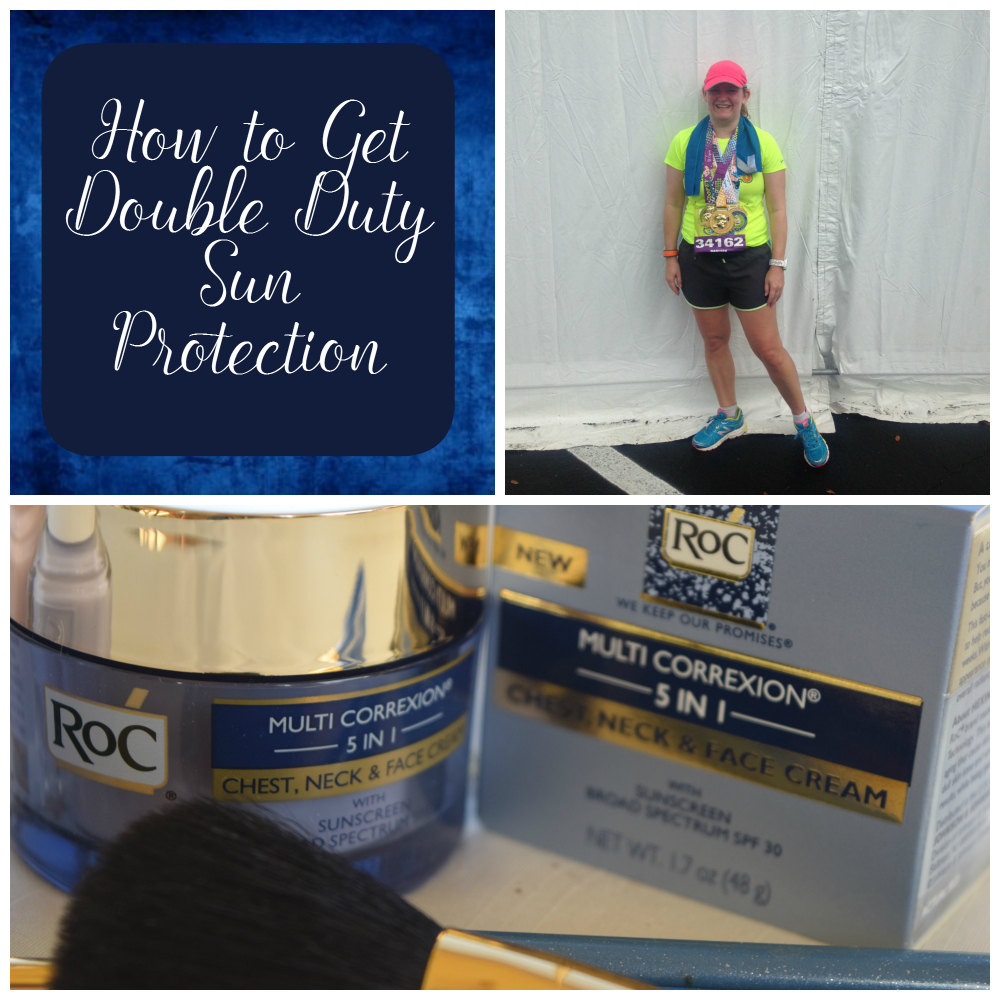 Disclosure: I tried RoC® MULTI CORREXION® 5 in 1 Chest, Neck and Face Cream and other RoC products as a sponsored post for Socialstars. #WomenWhoRoC
Summer is almost here, and it is already warm enough that people are spending more and more time outdoors.  That means it is also time to start thinking about skincare and sun protection to keep your skin in its best shape.
Why SPF Matters
When the skin is unprotected from the sun's ultraviolet rays, it gets damaged, causing fine lines, wrinkling, discoloration, premature aging, and an increased potential for skin cancer. Gone are the days when a so called "healthy tan" was all the rage. In reality, there is not such thing as a healthy tan. I pride myself on staying as pale as possible, even though I spend a good deal of time outdoors. To protect your skin, the American Academy of Dermatology recommends wearing at least SPF 30 sunscreen.
How I Protect My Skin From Sun damage
As a distance runner, I spend a lot of time in the sun. I protect myself in several ways. First, I always wear a hat when running to screen my face from the sun. I also wear sunglasses to protect my eyes. Then, I aim to use a sunscreen with at least SPF 50 on my body and at least SPF 30 on my face. I reapply sunscreen often. Aside from using sunscreen, I love it when my products can do double (or triple, or more) duty by not just protecting from the sun, but also by treating my skin. So, while I always wear a stand-alone sunscreen, I also look for makeup that has SPF included and I look for skin care products that both act as anti-aging products and contain SPF.  That way my skin gets even more protection.  RoC® MULTI CORREXION® 5 in 1 Chest, Neck and Face Cream is one such product that is perfect for that.
RoC® MULTI CORREXION® 5 in 1 Chest, Neck and Face Cream
RoC® MULTI CORREXION® 5 in 1 Chest, Neck and Face Cream is a great double duty product.  Specially crafted with Hexinol to moisturize the chest and neck area, it is a super hydrator that improves the look of discoloration, sagging, dryness, dull skin tone and wrinkles. It will hydrate thirsty, dry skin  and help restore elasticity and firmness. I particularly like how thick the cream is. It has a super luxurious feel, and my skin soaks it right up. It also has SPF 30.
If you wear RoC® MULTI CORREXION® 5 in 1 Chest, Neck and Face Cream during the day to address items such as dryness , discoloration, and wrinkles, etc., you also will be getting extra sun protection at the same time.  When this is combined with other sun protection measures, such as additional sunscreen when outdoors for any length of time, or protecting your face from sun with hats, etc, the product can help protect your skin against future sun damage. We need all the protection we can get!
Learn More About RoC Skin Care