I wish I were in my teens or twenties again. Then I would dare to go all out with this wonderful new collection from French artist Fafi and M.A.C. Cosmetics. But being 40, I just don't think I can get away with a look like the one below, no matter how much I adore it!
As it is, I am still getting a lot of enjoyment from this collection. It is chock full of fun shades and I have already discovered a favorite new lipstick shade in it. (see Girl Gloss review). Among the other pleasures is a great selection of new paint pots, which I absolutely love. As far as I am concerned, MAC can't put out new shades of these fast enough. If you haven't tried a paint pot yet, get yourself to a MAC counter or store and do so! They are bit hard to blend, but they wear oh so well!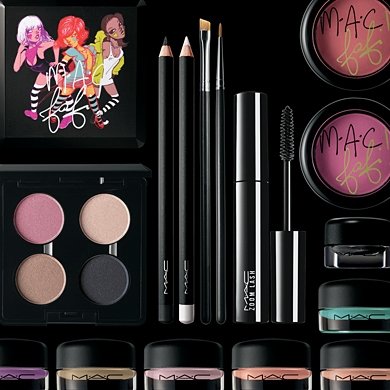 The collection also includes some wonderful iridescent pressed powders, including a repackaging of the shade belightful in an adorable compact. This shade is absolutely incredible as a highlighter/illuminizer on a variety of skin tones, although darker skin tones might want to step up a shade to Verv-Acious.
Another wonderful surprise were the two new nail lacquers. I have been enjoying M.A.C.'s limited edition nail shades, and the ones in the Fafi collection have become instant spring favorites. Boom! is a great purple/plum shade with a good measure of pearl shimmer to it that I have been sporting for over a week now. Girls Will Be Girls is a opalescent candy pink.
The collection also features Fafi cases, T-shirts, and collectible dolls. For more see Macfafi.com

Shop for M.A.C. Cosmetics