The new MAC Wonder Woman collection arrived at my house and I immediately went to work to swatch the full collection. The Wonder Woman collection is full of big and bold products, including supersized lip glass.   There are also some great eye shadow sets, tinted mascaras, and big bronzers. This post includes the eye products. To see the face products, check here: MAC Wonder Woman Blush Swatches. I also have all of the lip product up on Girl Gloss here: MAC Wonder Woman Lipglass Swatches.
The collection launches nationwide February 10, 2011.
First up are the MAC Wonder Woman eye shadow swatches.
MAC Wonder Woman eye quad swatches, Valiant:
MAC Wonder Woman eye quad swatches, Lady Justice:
MAC Wonder Woman eye quad swatches, Defiance:
The collection also has two pigments and two glitters. Here are swatches.
MAC wonder woman swatches: Marine Ultra Pigment and Bright Fuchsia Pigment:
Reflects Pearl Glitter and Reflects Bronze Glitter:
Finally, there is a penultimate eye liner in black and four MAC Opulash shades. If you like tinted mascara, these should excite you, since Opulash is a pretty good mascara in general.
MAC Wonder Woman Opulash swatches:
MAC Penultimate eye liner swatch: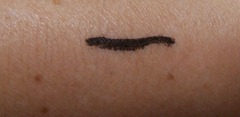 Disclosure: This post is based on products sent to me by a representative of the company. For more, please see the disclosure page.