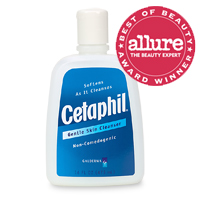 Cetaphil Gentle Skin Cleanser
is a cult favorite cleanser and an Allure Magazine Best of Beauty award winner for a good reason: It is one of the best cleansers out there, yet comes at an incredibly affordable price.
A container of Cetaphil is usually several times the size of other cleansers and makeup removers, but at $10-12, it sells at a fraction of the price. I love Cetaphil, and tend to alternate between it and DHC's Olive Oil Cleanser as my daily facial cleanser. The cleanser is gentle and provides a soothing and slightly moisturizing wash. It removes makeup well and does not dry the skin. For anyone with sensitive skin, this is the perfect cleanser. It is also great for anyone who wants an affordable, effective, and comfortable cleanser.
Cetephil also makes a version for normal to oily skin:Cetaphil Daily Facial Cleanser, Normal to Oily Skin, but I tend to get the sensitive skin formula, even though I do not have sensitive skin. There are fragrance free and bar formulations as well.
Cetaphil Moisturizing Cream
is another great, yet affordable product. This moisturizer is a great all purpose product that like the cleanser, comes in a generous size for the price. I tend to get dry spots on my legs as soon as the weather turns in the fall. I tried some of the Cetaphil moisturizer for that and it worked quite nicely. It was non-irritating and heavy on the moisture. It too is sold at a great price.
It is always nice when top products are easily to afford, so if in the market for a good cleanser of moisturizer, give Cetaphil some consideration!