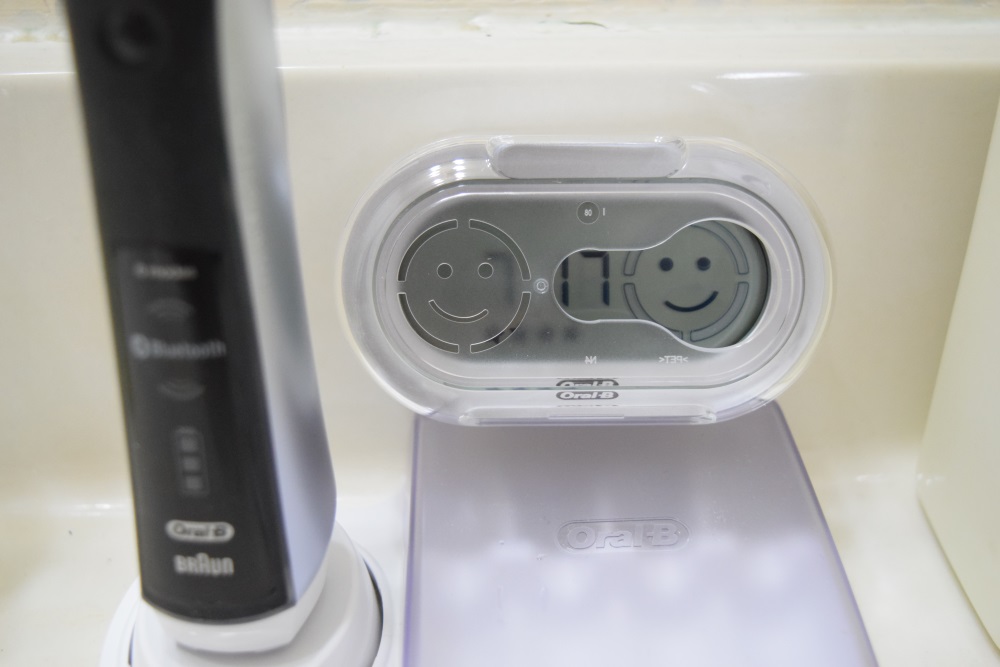 Disclosure: This is a paid sponsored post on behalf of Oral-B.
Are you looking for the perfect Father's Day gift? Does your dad love gadgets and tech items? Give him a great smile with the new Oral-B Pro 7000 SmartSeries with bluetooth connectivity. This is a seriously cool electric toothbrush, and what could be better than the gift of a healthy smile!  It is a great way to tell Dad how much you like to see him smile.  On top of it there are some really great coupon offers for it right now where you can get $30 off of the 7000 series or $20 off the 5000 series brushes.
Oral-B has a proud heritage as the number one oral care brand used by dentists worldwide and is the global leader in oral care, providing consumer-lead innovations for over 60 years. Now, Oral-B is stepping up even more by providing a bluetooth enabled toothbrush.   The Oral-B Pro 7000 fits perfectly into the digital world and trend of tracking health and fitness through smart phones and digital devices. Using Bluetooth 4.0 technology, the Oral-B Pro 7000 SmartSeries electric toothbrush connects to an enhanced Oral-B app in order to provide real-time guidance while users brush. It records brushing activity that users can then share with their dental professional and can help create smarter and more personalized brushing routines.
The toothbrush comes with a stand, charger, multiple brush heads for different uses, a wireless smart guide and a timer to tell you how you are doing while brushing. It also includes and a nice travel case and pouch.  The brush senses when you are brushing too hard and notifies you. It also has multiple modes for gum care, sensitive, whitening, and deep cleaning. A timer shows how long you have to go, and you get a cute smile face at the end.  The Oral-B 7000 has a rechargeable battery that holds  a charge for up to 10 days when used twice a day for 2 minutes each use. Charging is easy through the included charging stand, which also has a holder for brush heads.
To use the app, you simply download it to your phone and follow the easy instructions for setting it up and connecting to the brush. you can then use the timer on the phone and save your data to track your progress. The app also gives motivating cues and displays oral care tips. You can also view things like news, weather, and your calendar while brushing, which is rather handy if you like to multi-task!

When you finish brushing, the app will tell you how well you did with a display of your brushing time and pressure, along with checks to show that you flossed, cleaned your tongue, and rinsed. It is a great way to make sure that you brush for a full two minutes.
This is a pretty darn cool high tech tooth brush. Any gadget and tech loving dad would love it for Father's Day. You can give the gift of a smile or get one for yourself at Oralb.com and don't forget about the coupons!
#oralb