[button color="D"]Affiliate Links[/button][button color="D"]Press Sample[/button]
Tria sent me their Age Defying Laser to review, plus one to giveaway, which I was pretty excited about. Skin care technology for home use has come a long way. In the not too distant past, those seeking laser skin care treatments faced expensive trips to a dermatologist or medical spa for multiple treatments-something that took a lot of time an money to get results. Now companies are increasingly making these treatments available through devices for use at home. One such item is the Tria Age Defying Laser which is a home alternative to Fraxel laser treatments. Does it work? I have been getting results from it to smooth out my skin and address fine lines.
About the Tria Age Defying Laser
Put in super layman's terms, laser treatments work by delivering targeted heat to the skin in a manner speeds exfoliation of dead skin cells and stimulates collagen production without being overly irritating to healthy skin. The result is skin smoothing, lessening of pigmentation, diminishing of fine lines and wrinkles, and overall more even skin, all with minimal irritation. The Tria Age Defying Laser allows you to do this at home for the cost of the product, which is currently $495. Doing this through professional laser treatments would often cost at least that amount per session. So the Tria presents the ability to save thousands.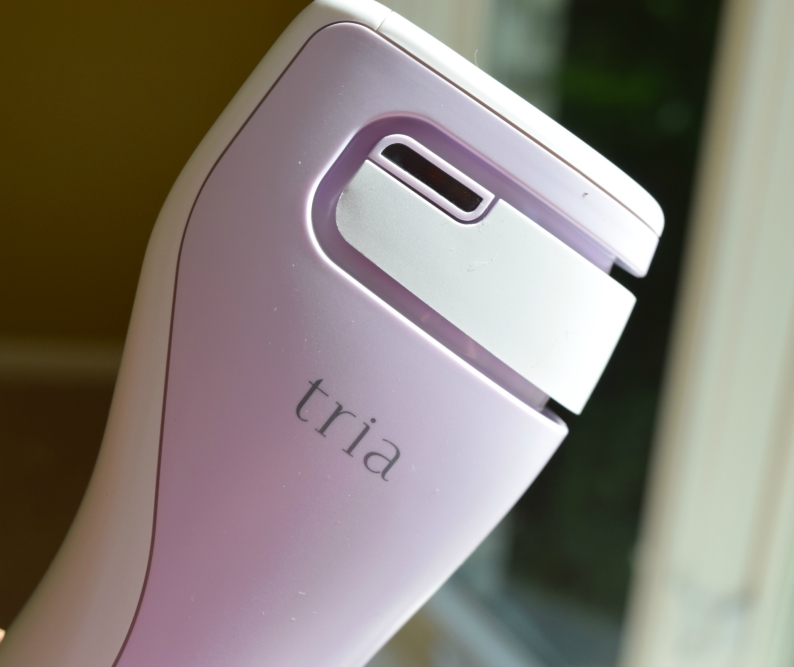 The Tria is FDA cleared and comes with a 90-day money back guarantee. Consumer reviews can be read on the site through the links here and tend to be quite favorable. Most users report that, with consistent use, the Age Defying Laser works for them and they begin seeing results relatively quickly. However, Tria recommends a full treatment course of 12 weeks of daily treatments.
Using the Tria Laser Facial Device
Using the Tria Age Defying Laser is simple. First, start with clean skin. Tria makes some specific products developed for use with the laser that you can get for this, although it isn't absolutely necessary to have those. From there, you follow a process to unlock the device and choose a setting. Three levels are available. Level one is a training level to allow your facial skin to get used to the laser. Over time, you can increase levels as you get used to it. From there, you move the laser across your face in 4 zones, covering each zone until the device beeps, signalling you to move on to the next. Each level increases the treatment time in each zone. Do not use the device on your eyelids and do not perform the facial treatment more than once every 24 hours.
My Tria Age Defying Laser Results
I have been testing the laser for a few weeks now and am rather happy with it. I have yet to test it to its full potential, so watch for updates on that, but below is an outline of where I am with it now.
My initial experiences with the laser were with it set at level one. I have notoriously tough skin that can put up with a lot, and I had no issues with it at that level. About all I felt was a bit of tingling and warming. However, I could see those with sensitive skin needing to stay on the lower level for longer than I did. After a couple of days I moved up to level two and then a few days after that to level three. Level three leaves my face feeling flushed and warm, but it fairly quickly dissipates. Some report that it feels a bit like having a sunburn, which I think is a fairly accurate description. Tria's set of skin care products formulated for use with the laser includes a soothing serum and moisturizer that are perfect for after use.
After a few weeks of daily use, I started seeing some definite improvement in my skin, particularly in terms of overall evenness and texture. I have always had rather blotchy skin, and that is improving. I can't say that it is showing up well in photos yet though, so I am saving before and after photos until I have used the device longer. I would really like to use it daily for the full 12 week course that Tria recommends. I do think the key to success with the age defying laser is to use it consistently. Based on reading reports from others, using it here and there or a couple of times per week likely won't cut it. So it does take some commitment, especially since it takes 10 minutes to treat the full face on level 3.
Overall, I am happy with the laser so far and am curious to see how thing go after 12 weeks of use. So check back for updates!
Win a Tria Age Defying Laser!
I also have a laser and set of skin care products to give away! Want a chance to win? Go here to enter!
Buy the Tria Age Defying Laser