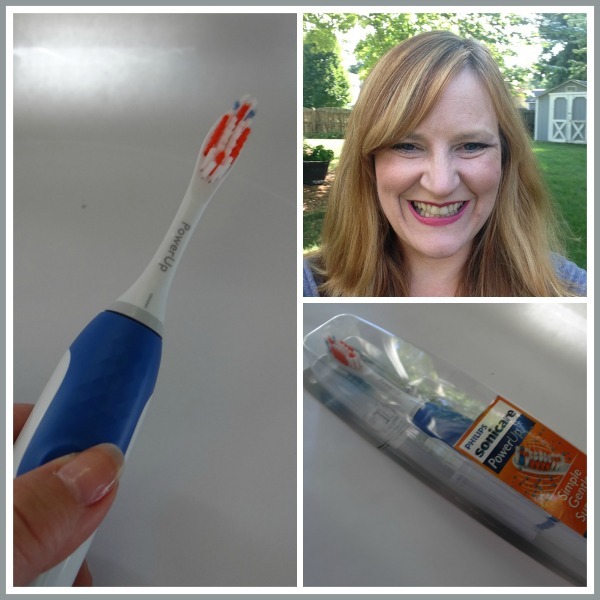 I am normally a manual toothbrush user, but my dentist would prefer that I use  a powered brush. Want to see a cool video on the evolution of toothbrushes, and how manual brushes are outdated? Check out this video.  So, I was more than happy to try out the Sonicare PowerUp toothbrush. This is a battery powered brush that is also super affordable. You can get it for under $20 at Walmart!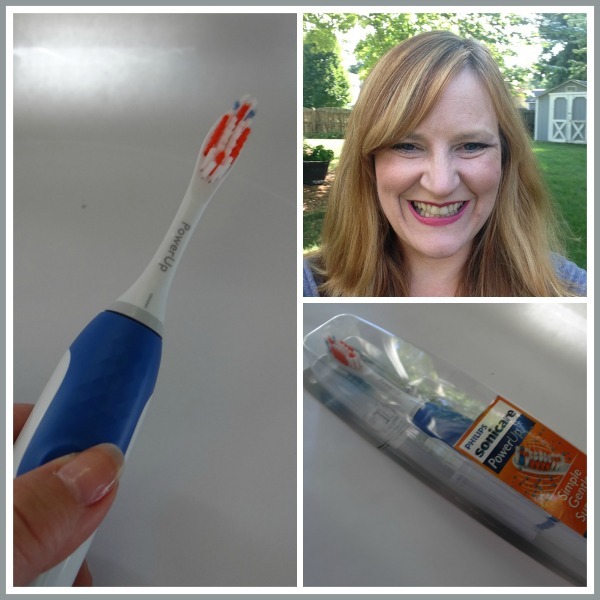 The brush is easy to operate with a simple push of a button. It also fits nicely in the hand is not overly heavy. For being so affordable, it also seems quite durable. I would not have guessed that it is under $20.  It uses two AA batteries, so you don't need to worry abut charging it. That also makes it easy to travel with.
I used the brush for a week and got noticeable results. Sonicare notes that you can get a month's worth of brush strokes in a day with this toothbrush and I imagine that is about right. The powered brush definitely cleans better than a manual brush. The Sonicare PowerUp is also good for the gums, since I found that it could clean along the gum line a lot better than a manual toothbrush.  For me, that is an important factor.
Another bonus of the brush is that it has a removable and replaceable head. So, you don't have to buy a whole new brush when the head wears out. Simply just head out to Walmart and grab a replacement.
You can learn more about the Sonicare PowerUp at the Sonicare Facebook Page.
Sonicare PowerUp Giveaway
Now, you can enter to win your own Sonicare PowerUp toothbrush. This giveaway will be open until the end of the day on October 4, 2013. I will then draw a winner and the prize will be fulfilled by Collective Bias. To enter, use the Rafflecopter form below (refresh the page if you don't see it). Open to US residents only age 18 and over, void where prohibited.  Good luck!