Are eye bags and puffy eyes a concern for you? Have you been looking for the best cream for eye bags? Well, here are some suggestions for you to treat your eye bags, puffy eyes, wrinkles, and dark circles. Let's get those eyes looking great both with tips to treat your eye bags, a few DIY eye cream recipes, and 6 of the best eye creams for puffy eyes!
How to Treat Eye Bags and Puffy Eyes
There are many causes of puffy eyes. While there are many great eye creams for puffiness, there are also things that you can do outside of using creams and serums that will help. Try these tips for treating your eye bags, dark circles, and puffy eyes.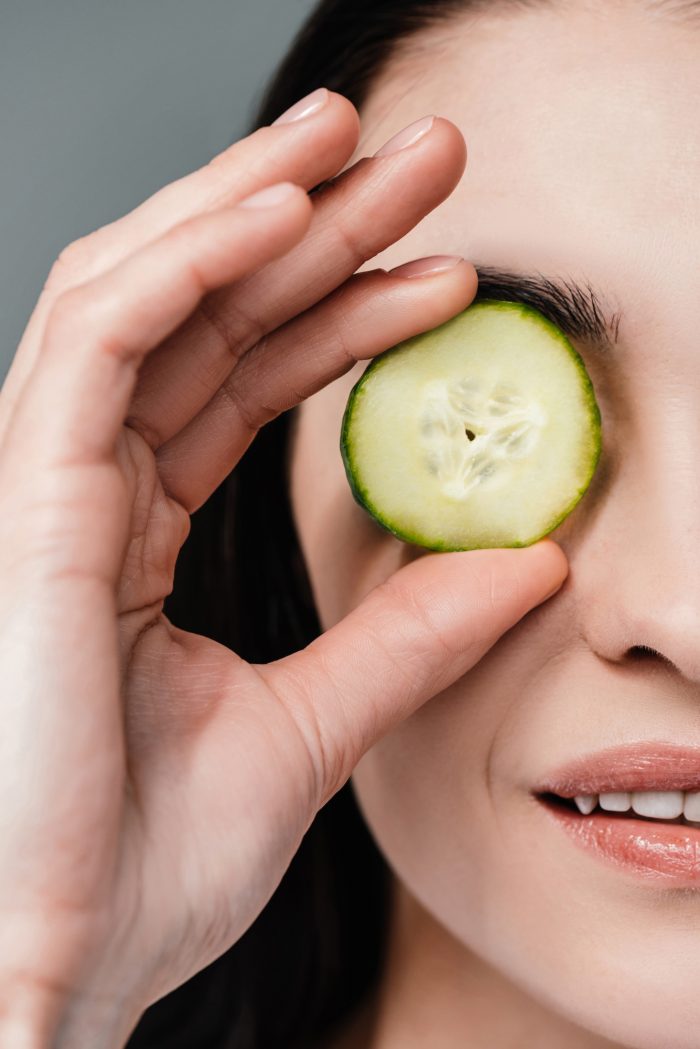 Drink lots of water: Hydration for your skin starts from inside. When you are dehydrated, wrinkles are more apparent and dark circles look darker. You might actually retain some water around your eyes and in your hands, making those puffy eyes look worse. Some sources suggest reducing water intake around bedtime, but if you do so, make sure you are fully hydrated during the day.
Try ice or a cold spoon: Wrap an ice cube in a few paper towels and apply it to your eye bags. It will reduce puffiness and help the eye area look better. Another trick is to put a spoon in the freezer and rest the back of it over your eye for a minute or two.
Reduce salt intake: Salt makes you retain water, which can lead to puffy eyes.
Sleep with your head slightly raised: By sleeping with your head a bit elevated, fluids will be less likely to accumulate around your eyes.
Get sufficient sleep: Being tired accentuates the look of eye bags and dark circles
Quit smoking: Smoking is one of the top causes of tired, puffy eyes with bags and dark circles. Plus it is terrible for you and your skin in many other ways. Find lots of great resources to quit smoking here.
Treat your allergies: Allergies are another top cause of eye bags. Seek treatment to alleviate symptoms.
Try the cucumber trick: Cool cucumber slices soothe the eye area and reduce puffiness.
DIY Eye Cream and Home Remedies
Before getting to the list of the best under eye cream for bags, here are also a couple of links to DIY eye cream recipes. So if you like to make your own products check these out!
What is the Best Cream for Eye Bags?
The best under eye cream for bags isn't just a cream! There are many great creams, lotions, serums, and masks for eye bags, puffy eyes, wrinkles, and dark circles. Most of them treat all of those. A few popular ingredients are Hyaluronic acid, Peptides, Caffeine, Vitamin C, and various oils. So when seeking out that best eye cream for puffiness, look for some of those ingredients and look beyond just the creams.
For example, popular right now are various eye masks that soothe the eye area and also treat multiple concerns. I like to use a combination of masks for a bit of home spa day self pampering and a cream or gel for daily use.
Now, how about what NOT to use! Do not use Preparation H for eye bags! It is a myth that it does much, and it can be unsafe. Use a great eye cream formulated for the eye area instead.
I curated the list below to highlight some of the most popular eye products on Amazon. These eye creams all get great reviews. Click on through to read them. Note: As an Amazon Associate and member of other affiliate programs, I earn from qualifying purchases.