Disclosure: I used RoC Retinol Correxion Deep Wrinkle Daily Moisturizer as part of a sponsored post for Socialstars on behalf RoC. #WomenWhoRoC
A while back I wrote about using RoC® Retinol Corrextion® Deep Wrinkle night cream in preparation for my holiday trip to Mexico and for holiday parties. Now, I am adding RoC® Retinol Correxion® Deep Wrinkle Daily Moisturizer With Sunscreen to the mix! I always wear sunscreen, but the addition of it to more of my skin care products will be extra important when I go on my holiday trip to the beach! I need all the protection that I can get! I am already starting to plan my packing for the trip and RoC is on the list.
In prepping for my vacation, I am particularly packing plenty of sunscreen and making sure that my skin care includes it as well. Some of my top packing items are skin care related. For example, I am focusing on items such as these:
Sunscreen: Lots of it since my skin is already extra pale from the onset of winter.
Sun hats: I bring several so that I always have one and don't have to worry if I lose one.
Swimsuit cover ups: I try to find shade, but a cover up is essential for when I can't find something to sit under.
Double duty skin care products that contain sunscreen: Double duty products are great for travel because you can combine their effects.
RoC Deep Daily Moisturizer fits the double duty category quite nicely. It treats wrinkles and also contains sunscreen.
RoC Retinol Corrextion Deep Daily Moisturizer includes a broad spectrum  sunscreen with SPF 30. This is great for overall skin protection and to help prevent wrinkles from sun exposure. The product also contains an exclusive combination of pure retinol and the latest sunscreen technology that is specifically engineered to deliver very broad and photostable UVA and UVB protection. It is clinically shown to visibly diminish wrinkles after 8 weeks of use. After 12 weeks' use, even deep wrinkles are visibly diminished. I find that it does a good job at delivering an effective dose of retinol without drying out the skin.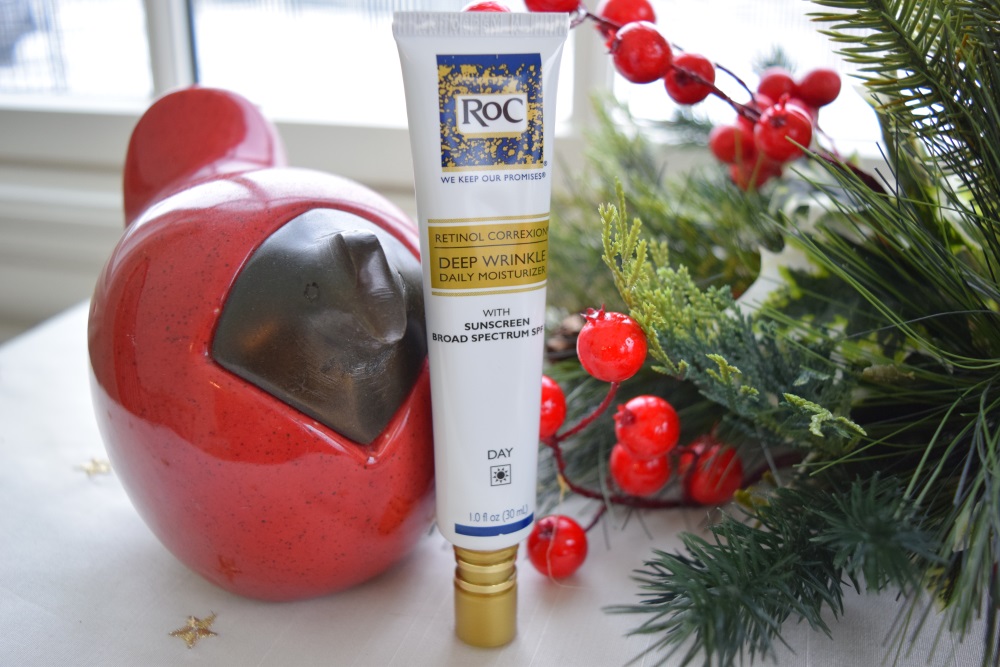 The product is also great for attacking wrinkles in preparation for holiday parties. I have been working on putting out holiday decorations in anticipation of holiday festivities. Below is a box that I filled with colored balls and pine cones, which makes for an interesting table centerpiece for holiday parties. It was a super easy DIY project.
Learn more about RoC Deep Wrinkle Moisturizer.
What are you doing this holiday season?