Finding the best face powder can be a bit tricky. There are plenty of good ones, but there are also plenty that are so full of talc and fillers that they look chalky or pasty, especially in the cheaper brands.
The below article, syndicated from Total Beauty, has their reader's favorites. I'm actually not a fan of a a couple of the powders in the article: L'Oreal True Match (this one is chalky for me), and Physician's Formula (that one doesn't last well for me). I also don't love Bare Escentuals Mineral Veil because it has quite a bit of bismuth, and ingredient that can cause irritation and that creates a shiny look.  However, I do love the Clinique powders that are listed, along with MAC Mineralize. Guerlain, my all time favorite, is also listed.
Click on through below to see the entire list of best face powders from Total Beauty.
There are so many grease-minimizing powders out there, but which one is No. 1? Find out …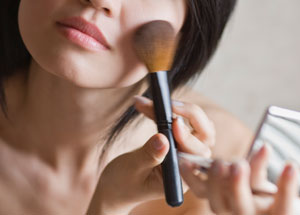 This is a TotalBeauty.com face makeup article
We combed through thousands of reviews to bring you the most helpful, insightful tidbits about the highest-rated face powders on our site.
What is your favorite face powder?