I am a big deep conditioner fan. If you have color treated hair or dry hair, deep conditioning once a week or so can make all the difference in getting smooth silky hair. The article below, syndicated from Total Beauty, provides some great information on the best deep conditioners based on their reader's rankings.
A couple of items on the list that I particularly agree with are the Aussie Three Minute Miracle, which is also incredibly affordable and available at your local drug or grocery store and Redken Smooth Down Butter Treat, which I think is the best for taming frizzies and creating smooth, straight looks. I love how soft it makes my hair feel too.  It too isn't all that hard to find. You can read my previous review of the Redken Smooth Down Hair products here: Redken Smooth Down.
Although not on the list, I highly recommend protein treatments that include animal protein once every week or two as well. I use Joico K-Pak Deep Penetrating Reconstructor,
which is one of the few easy to find deep protein treatments. Note: Don't use protein treatments that contain animal derived protein more than once every week or so. They do great things for the hair in moderation, but too much use can weaken the hair over time.
There are also a bunch conditioners on the list that I haven't tried, and I suppose that I should! Anyway, take a look and see if you can find the best hair conditioner for you.
Quench your hair's thirst with these top-rated products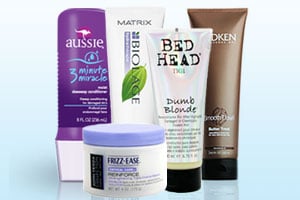 This is a TotalBeauty.com hair care article
Total Beauty readers condition and tell which deep conditioners get the thumbs up.
If you have a deep conditioner that you think is simply the best, let us know in the comments!