Disclosure: This review is based on products provided to me by the brand.
I have battled adult acne for pretty much my entire adult life. In my case, it doesn't seem to have specific food triggers, it is mainly hormonal. I have tried various treatment regimes, some with more success than others. I was having a particularly bad breakout when I got the chance to try the Emme Diane system, so I was happy to give it a test run. I'm glad that I did, because ti worked! This is a great set of products that are well thought out and free of ingredients that can aggravate acne. I never cease to be amazed at some of the ingredients in various acne products that can actually cause acne. For example I was sent a product once that had sodium laurel sulfate in its cleanser, which always causes breakout for me. There are no such worries with the Emme Diane line of products. You also can get a consultation from Emme Diane about which products to use and tips on how to prevent acne. She will even recommend makeup products that are free of acne causing ingredients. Emme Diane is a licensed esthetician.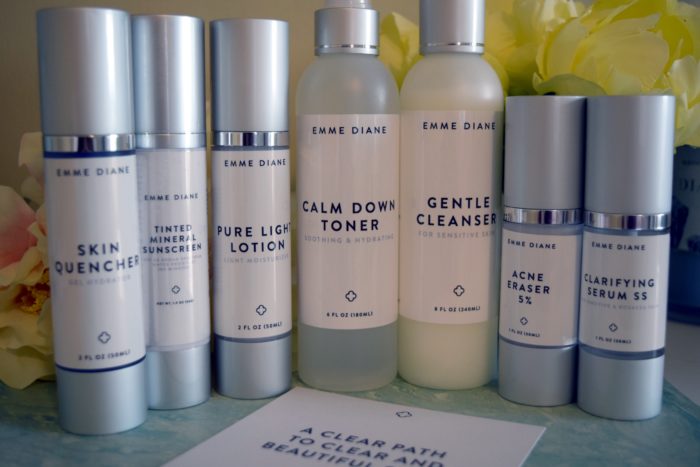 The set I used consisted of seven products. That may seem like a lot, but each product has its own purpose. Knowing how and when to use them is easy because the set came with it own detailed instruction card.
The routine changed several times as the weeks went on to allow the skin to adjust to the products. I used the products for about eight weeks and saw results after about four to six weeks. Most important, I have not had any new breakouts. It is one thing to treat a breakout and something entirely different to prevent breakouts from happening. So far the Emme Diane line does both and has been very successful for me in that respect.
The products are very gentle. My favorites are probably the cleanser and toner. I also really love the light lotion, which provides the perfect amount of moisture, but is not at all heavy. The treatment lotion and serum are also non-irritating. Here are before and after photos. The left was a rather persistent and active breakout. The after on the right still has signs of it from healing, but it is completely cleared up and I have no new acne. You can see more before and after photos from others on the Emme Diane website.
Overall, I highly recommend the Emme Diane products for anyone battling acne. This set of products is the real deal!