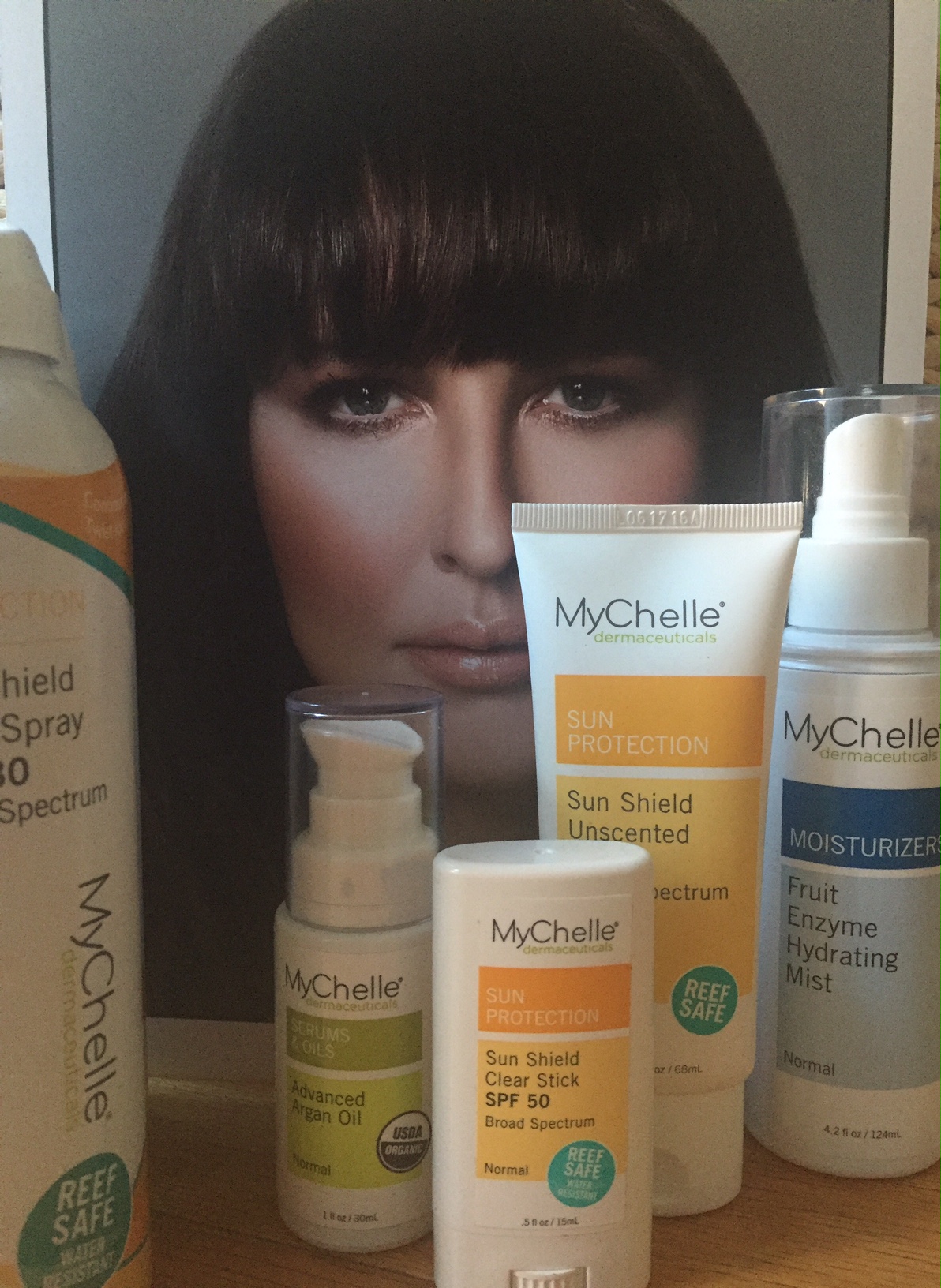 Let's set the stage for my guests, who shine bright in this world sharing their creative talent and are here today to share their essentials for that effortless summer beauty.
Que the music….shine bright like a diamond…shine bright  like a diamond…You and I we're beautiful like diamonds in the sky…so alive…we're beautiful like diamonds in the sky…shine bright like a diamond…
I'm proud to introduce my longtime British friend, Pauline Briscoe, an international and highly respected celebrity make-up artist based in London. Pauline has worked on many faces including Kelly Rowland, Leona Lewis and Solange Knowles and soon mine – wink wink. Pauline knows the importance of gorgeous skin as it creates the perfect canvas for impeccable make-up.
My close friend and facialist Nicolette Vallone has been an esthetician for ten years. She has a dedicated following at the prestigious Upper East Side townhouse sanctuary, Verve. I would only allow her hands near my face – Nicolette has been giving me Microdermabrasion's since I moved to New York and the results are glowing, dewy skin.
And I'm thrilled to welcome my talented cousin Lara Hughes (although we are more like sisters). Lara recently got married (to a rather handsome chap) and looked effortlessly beautiful, so it was a natural choice to invite her as a guest today. Lara creates a different kind of beauty as a Senior Design Consultant at Neptune in England. After all we want our homes to look as beautiful as we do.
So as we navigate my favorite season let's talk mid summer skin essentials….Pauline travels the world creating stunning make-up looks so what is her summer essential?
Pauline tells me, "My summer skin essential would be Laura Mercier's Foundation Primer with SPF 30. It's one of my favorite products and there is a primer for every skin type. It's so good, you can use it instead of moisturizer before applying foundation. I love it as it keeps you looking fresh all day". Well Pauline would know, being one of the most in demand make-up artists in the industry. I have to say a quality primer really does make a difference to the staying power of your make-up and its ability to stay looking polished and fresh. Laura Mercier is available at Sephora in the U.S. and John Lewis in the U.K.
I think we can all agree our hair is put to the test during the summer and needs extra care. So I asked Pauline what her hair summer essential is and she told me, "It's difficult to choose one hair product perfect for summer but because I'm a regular swimmer and never miss an opportunity to be at the beach, an absolute hair essential of mine is Mizani's Moisturfusion Silk Cream Conditioner. I like to add it to my hair for five to ten minutes after swimming, before rinsing my hair as it leaves my natural hair soft and manageable and I don't need to worry about chlorine dehydrating or damaging my hair". I absolutely agree. Check out this line at Mizani.com Pauline offers one-to-one personalized make up classes, contact Pauline on Paulinebriscoe@hotmail.com
Finding a good facialist is like finding a good hair stylist, once you do you don't want to let them go. It's an added bonus when they become part of your inner circle and a loyal friend. That is exactly who Nicolette Vallone is to me. Nicolette knows gorgeous skin and when I asked her for her summer skin essential I smiled. Nicolette told me, "My must have skincare secret for summer is that I love to keep my face hydrated by using cosmetician Ole Henriksen, which is an African red tea face mist & only $28. It is filled with antioxidants and in addition to cooling down, soothing red tea helps strengthen your skins outer layer". I went to my local Sephora and tried this and loved it. Like I said I smiled because I'm such a huge fan of face sprays and they are definitely a summer essential of mine. I want to add to this by suggesting Mychelles 'Fruit Enzyme Hydrating Mist'. The mist instantly energizes and restores moisture to your skin. Face sprays feel especially good when flying and I find most brands are offering travel sizes now. We love this when we fly back and forth across the big pond….aka the Atlantic.
So what is Nicolette's hair summer essential, well let's just say my loyal beauty essential readers are very familiar with this product! Nicolette told me, "My go to summer hair essential is coconut oil, I use this as a deep conditioner. During the summer months my hair tends to get more dry due to salt water from the beach and as well as the chlorine water from the pool. Such an amazing product". This is my personal summer hair essential. I rock this as my leave in conditioner in the city and on the beach by slicking my hair back. Nicolette uses the same brand as me, Natures Gate organic pure and unrefined coconut oil. Available at Wholefoods (throughout America and London).
I'm very excited to team up with Nicolette and Verve to offer you all a Microdermabrasion at the reduced price of $75 for the entire month of August. Simply call Nicolette during business hours at Verve on 212-888-3003 and mention my name. I am an avid fan of Microdermabrasion's and this is a superb way to try one if you never have.
Creativity connects people and to have a cousin who I connect with and relate to on such a deep level is a true gift. Lara looked so effortlessly flawless on her wedding day and may I add that's not easy to achieve, it takes a special inner beauty to ignite that effortless outer beauty and grace. So let's hear Lara's summer essentials, "Yes to cucumbers Cleanser Gel as I have sensitive skin, this is really hydrating with 96% natural ingredients". This product is available at Target in the U.S. and Boots in the U.K. I must say I'm a lover of cucumbers and for that extra hydration try adding them to your juice and/or mineral water. Lara also shared how she gets that stunning glow, "Bobbi Brown Blush in 'Coral Sugar'  as it gives my cheeks the perfect pink glow but still let's my summer freckles show through". I tried this while at Sephora and absolutely loved it!
I'm going to add my summer essentials into the mix now. I am a lover of travel friendly products and one that has multiple uses is Mychelles Advanced Argan Oil. I use it on my face to moisturize, for my hair to combat frizz and even on my heels and knees if they look dry. Another summer essential of mine is sunscreen. One of my all time favorite skincare brands is Mychelle, please take a look at their website as they have great offers www.mychelle.com I use the 'Sun Shield Unscented SPF 28 Broad Spectrum' sunscreen on my face every day. I recently discovered the travel friendly 'Sun Shield Clear Stick in SPF 50' and for my body I'm using the 'Sun Shield Clear Spray SPF 30 Broad Spectrum' sunscreen. I have to say while out in the 90 degree temperatures at Panorama Music Festival I wore these sunscreens and they really did their job because there's nothing more damaging and unsexy then sunburn…
So beauty lovers as you continue to soak up this sexy season called summer stay flawless, stay glowing, stay beautiful….and remember we all shine bright like diamonds in the sky.
Bios
Lara Hughes is senior design consultant for Neptune. If you appreciate style and quality in your interior you will absolutely love what Neptune represents. This is my style completely! I love it. Www.neptune.com
Pauline Briscoes work can be viewed at www.paulinebriscoe.com She offers personal make-up classes and all booking information is here also.
Nicolette Vallone and Verve will be offering the microdermabrasion special for the month of August (I guarantee your skin will thank you).
Verve is located at 240 East 60th Street, New York. NY. 10022
Tel: 212-888-3003
Emma J Purvey is represented by The Mary Anne Claro Talent Agency (please contact Mary at rocco1513@aol.com for all bookings) and MMG model management in NYC and World Models in Miami. Follow Emma's work and all Beauty Essential news at Instagram.com/emmaukny