Disclosure: This is a sponsored post on behalf of Silk'n.
Do you hate shaving? I certainly do! That is why I started doing HPL hair removal. Shaving is time consuming, messy, and honestly, rather costly over the coarse of a lifetime. So, I would rather spend a bit of extra time and expense up front in order to permanently remove hair so that I can give up shaving later. There also is the fact that I am just flat out bad at shaving. I tend to miss spots and then notice them when I am already out in public. Or, I get in a hurry and next thing I know, I have an unsightly razor cut on my leg. Shaving and me just don't really get along all that well! Are you the same? Here is how to join the #NoShaveWave with the Silk'n Flash & Go Express.
About the Silk'n Flash & Go
The Silk'n Flash & Go Express is beautiful technology that allows for luxurious permanent hair removal at home. It is an innovative light-based device for hair removal with permanent results and it can be used on the entire body. This includes the face, anywhere from the cheekbones down. I plan to start using mine on some stubborn chin hairs! It can also be used along the bikini line and targeted zones such as the upper lip. And, of course, it can be used on the legs and underarms. It offers an easy to use and affordable solution to hair removal. The product also plugs into the wall, so there is no need to worry about battery charging.
The Flash & Go works by emitting a pulse of energy (HPL) which is absorbed by the pigment in the hair shaft. Hairs are targeted by the pulsed energy and disabled, which prevents future growth. After a series of treatment, users report less hair growth in the treatment area, and eventually the hair will cease to grow. I have used HPL devices, including the Flash & Go, for some time and had excellent results. Because it targets pigment, it works best on lighter skin with darker hair. People with darker skin should use a lower energy settings. The Flash & Go also has a skin color sensor as a safety feature and it will not emit a pulse of light if the skin is too dark.
The product comes with a nice case for storage and safe keeping.
Using the Flash & Go
Using the Flash & Go Express is easy. Before treatment, it is important to shave (do not wax) the area to ensure that the energy of the Flash & Go Express goes directly to the hair follicle root. Then, simply apply a series of pulses to the area where you wish to permanently remove hair. Silk'n recommends that you do a treatment every one to two weeks for the first two months then go to monthly as needed until the desired result is achieved. Normally people start seeing results in three to four treatments.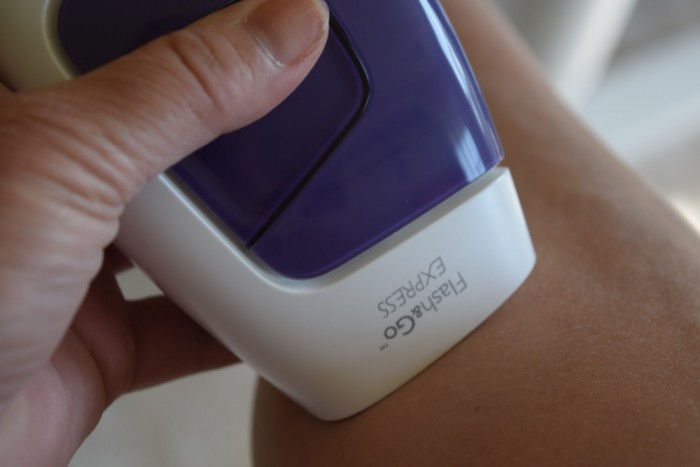 About Silk'n
Home Skinovations Ltd, the global leader in professional aesthetic devices for home use, is a private company with a mission to develop, manufacture and sell the safest and most effective consumer devices. Their team of skilled scientists, engineers and business executives have a successful record of introducing innovative light, laser and LED based products to the global aesthetic devices market. The Silk'n family of at home products has over 4 million users world-wide. The company manufactures the Gilde, Flash & Go and SensEpil at home permanent hair removal devices. Silk'n has won recognition for Best Laser Hair Removal, Product of the Year – Hair Removal, and Product of the Year – Anti-Aging.
Silk'n is the beautiful new way to remove unwanted hair forever. Now you can be silky smooth and stubble free every day. Join the Silk'n not shaven revolution and make shaving a thing of the past.
Silk'n products are sold in the following stores: Bed, Bath & Beyond; Kohl's, Ulta, and select Target locations.
Learn more at the Silk'n website!