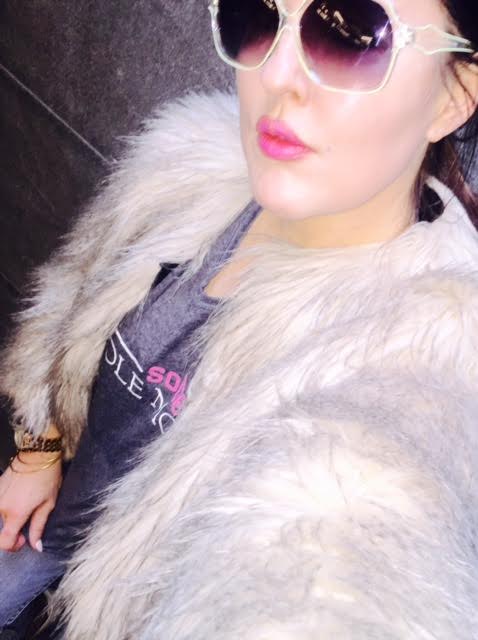 Welcome to the final installment of the spring series. Now that we have created a flawless canvas from the inside out, let's talk make-up. Without gorgeous skin, make-up really does not matter – it's essential to focus on healthy skin first before thinking about make-up. For a recent shoot I had the pleasure of wearing the new collection from Tarte called 'Rainforest of the Sea'. I have to say it is now my go to make-up. On camera ones skin can appear drier then it actually is so for my skin to glow the way it did I knew this was in a league of its own. The 12 hour water foundation delivers the ultimate hydration boosting coverage and the result is dewy skin.The color range is vast so it covers all skin tones.The algae process used for this collection has to be witnessed, so check out the video on their website Www.tartecosmetics.com
I combine the foundation with their lightweight, 12 hour concealing serum. This offers buildable, medium coverage with skin soothing benefits and again rocked on camera! Which is the ultimate test really. I highly recommend using the correct make-up brushes, it allows for a more polished application. I do believe in setting your make-up and this collection has the 'marine boosting 4-in-1 mist'. This works as a primer (so use it before applying the foundation), make-up setting spray (and spritz after), hydrating mist and skin refresher. It also smells incredible. I've never been big on powders as I just prefer that dewy skin look but if I had to use one (and on camera I didn't and my skin was dewy not oily) I'd chose either Hourglass or Perfekt. I've not tried their highlighting palette and brush yet but I'm going to. It is called "twinkle" love it! We should always twinkle! I am also excited to try the lipsticks from this impressive collection by Tarte. I'm ready for new spring colors.
I mentioned my love of Perfekt, so let me share more on this make-up. Much to my dismay, Sephora does not sell it anymore so check out their website atwww.perfektbeauty.com – I started using their 'skin perfection CC creme' last summer and it truly creates a flawless face. I am actually a huge fan of this entire line so take a look & discover it for yourself. Their products for the body are just as remarkable.
I use Becca to contour as it is just effortless to apply and creates such a natural finish. The 'Lowlight/Highlight' is a cream, that contours and highlights and it does not dry the skin. It is build-able coverage; allowing you to create more of a pop pow if that is what you want. I'm all about enhancing our beauty not covering it up, so my preference is natural contouring and Becca does that. As mentioned in skincare beauty essentials, Tata Harper have make-up that is just as good for your skin as their skincare. I'm using their 'Luminous Definition' while on the go to create a very natural contour during the day and it is beautiful. The tiny pot fits anywhere and makes it travel friendly. We love that! I'm also absolutely in love with their 'volumizing  lip and cheek tint'. Yesterday I literally just applied this lip tint with my finger and it created a flawless pout. Mwah! I'm using the colors 'very naughty' and 'very popular' naturally!
Let those cheekbones pop…another highlighter that creates a pop pow is 'Candlelight' by Too Faced. I will use this when I want my cheekbones to really make an entrance. I have been a fan of Hourglass for a while now and their new 'ambient lighting powder' is a subtle way to create the perfect illumination for your face. The micro-size, color-correcting particles retract light and create transparent coverage, filtering out harsh light and refining the appearance of the skin. Try the 'ambient powder brush' to apply this powder.
I have to say all winter I used 'skinfood' by Weleda as a primer and it rocked! I am still going to use it for spring while the temperatures go through their mood swings. This moisturizer absolutely creates a beautiful canvas to apply your make-up to.
As my regular beauty essential lovers know I am all about the cat eye; inspired by Bridget Bardot. The Marc Jacobs 'highliner gel eye crayon' is still one of my favorites. I bounce between navy and brown (and sometimes combine them), as these colors make my green eyes pop. I use the 'perfect eyes waterproof eyeliner' by Too Faced in 'perfect brown' also. The staying power is solid. Meow…
Have fun with your make-up….let it enhance your beauty…my playground is Sephora however when I'm in Florida I visit Ulta Beauty and I find that their playground is just as much fun! So that's a wrap for the spring series beautiful people. I will see you in the summer…..my favorite season! Until then stay flawless and remember beauty starts on the inside.
All products are available at Sephora unless otherwise stated.
Emma is represented by The Mary Anne Claro Talent Agency in NYC.