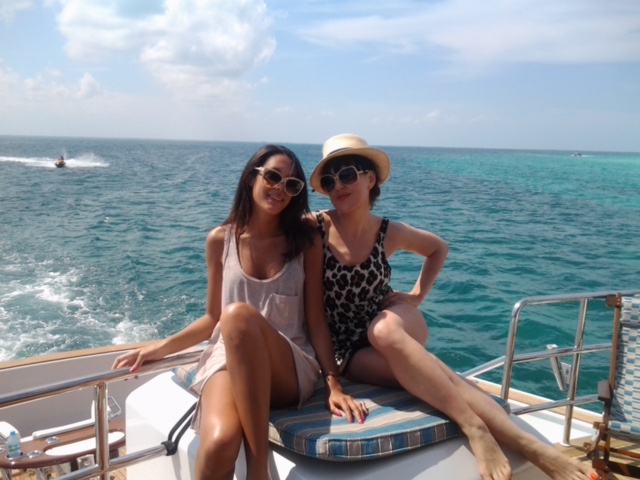 I love summer! However in order to fully enjoy the sun, I know my best friend has to be sunscreen.  So, Part 3 of my summer beauty essentials Series focuses on keeping our skin protected. While rocking that preferred type of glow as we enjoy this gloriously sexy season.
Let's begin with sunscreen. Not all sunscreens are created equal. In general sunscreens are bursting with chemicals that should not be going on our largest organ. Ironic right, they claim to be protecting us! Certainly not from these potential cancer causing chemicals. The chemical laden sunscreens that contain Homosalate (8.78%), Octinoxate (7.5%), Octisalate (5%), Oxybenzone( 5%) should be avoided.
"The use of sunscreen chemicals may be increasing the incidence of cancer…it also now appears that many heavily used chemical sunscreens may actually increase cancers by virtue of their free radical generating properties…" – Dr. Loren Pickart, P&G skin care research center.
The sunscreens I mention here contain natural minerals from the earth, either zinc oxide or titanium dioxide. I'm a lover of Badger. I have been wearing the Damascus Rose SPF 20 face sunscreen with a sheer tint. For a more full coverage I highly recommend JuiceBeauty SPF 30 tinted mineral moisturizer – BB. This 4-in-1 multitasking BB cream not only protects but has powerful antioxidant rich apple, grape and aloe juices for a radiant, even toned complexion. I'm a huge fan of MyChelle skincare in general and the sun shield broad spectrum SPF 28 chemical free protection, is one of my absolute favorites for the face. I also love the Daily Defense cream SPF 17, it protects and hydrates at the same time.
For the body I am trying Badger Active broad spectrum SPF 30 zinc oxide sunscreen cream. It is very thick and requires a lot of rubbing in, so a little goes a long way. However, after a long bike ride in the blazing sun Badger Active did it's job superbly. If, like me, you enjoy riding your bike or running outside then I've found JuiceBeauty organic SPF 30 sport moisturizer cream is another option. I recently started using Badger sunscreen (SPF 15) lip balm and my lips are noticeably softer. Even while running around the urban jungle I make sure to protect myself.
Now that we are protected, how do we keep our face looking flawless while in 90 plus temperatures…we spray our face darh-ling. Yes we do and we love the way it feels while refreshing our make up. My go to sprays are Mychelle Fruit Enzyme Mist; an antioxidant-rich, hydrating mist to ease the look of dehydration in the skin. Mychelle Apple brightening mist (travel size 2.1oz) hydrates and really brightens the complexion, while strengthening the skin. A face spray, another model recommended to me, that I love is by Alteya Organics. The organic Bulgarian Rose spray is very soothing and made of fresh organic blossoms of rosa damascena, one of the most precious and fragrant oil-bearing roses. I find a quick spritz, throughout the day while working, helps keep my face looking more polished.
Another tool for the summer are Boscia clear complexion blotting linens. This travel friendly package of 100 sheets instantly absorb excess oil. They treat and prevent breakouts without disturbing your make-up. Summer in the city can get dirty. Which is why I always have Juice Beauty blemish clearing serum in my bathroom cabinet, ready for any uninvited guests on my face. I've said it before and I will say it again – this is the absolute best product for an emergency blemish situation.
And finally the travel friendly Badger organic anti-bug, shake & spray is a must for the summer (now if only we could use that for the human bugs – wink wink).
Have a protected and fabulous July 4th America, I will have a British flag in one hand and an American flag in the other. Stay tuned for a more in depth look into summer skincare next week.
All products are available at your local wholefoods.
Emma is a British actress, model and broadcast journalist living in NYC.
Her approach to beauty is holistic and this is reflected in the Beauty Essentials series. Represented for film&TV acting/voiceovers and print/commercial modeling by the Mary Anne Claro Agency and MMG model management.
Also, here is Part One of this Series, and Part Two.