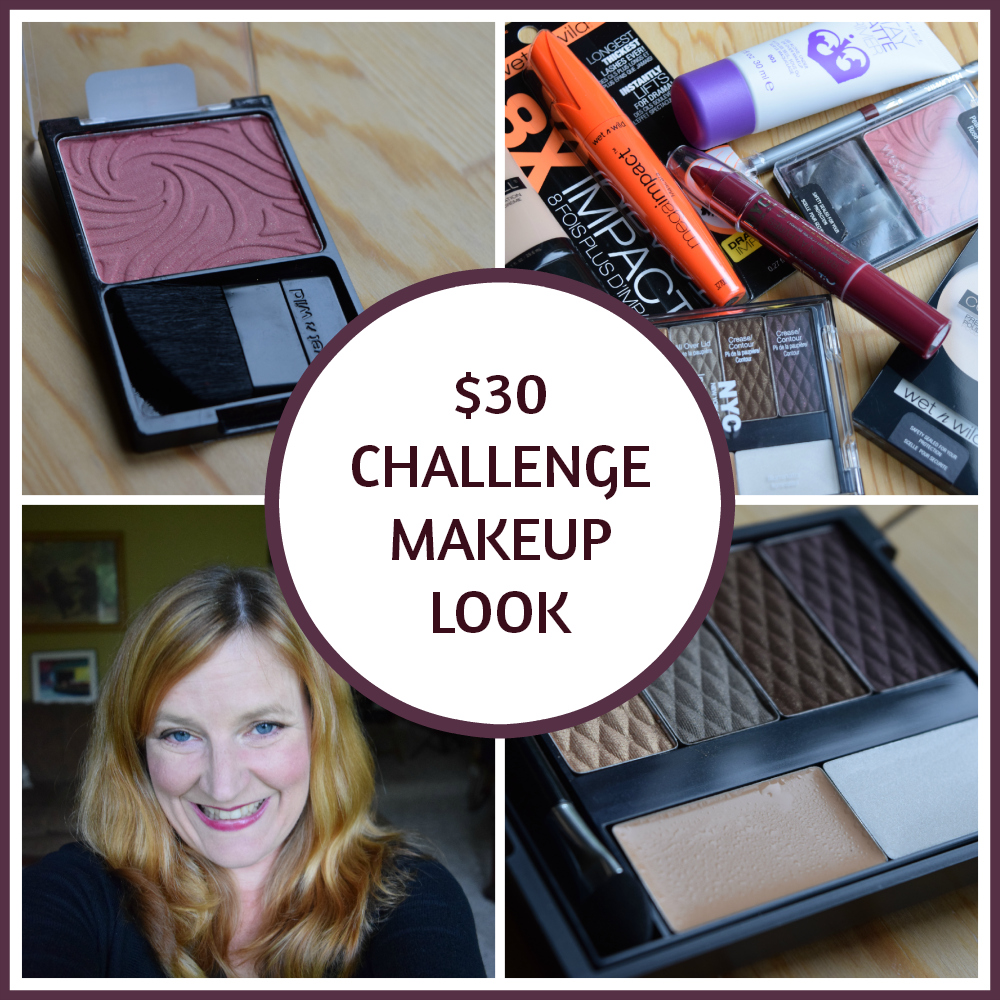 Way back, Makeup Wars did the $20 Face Challenge. Now we are back with a bit of inflation built in, doing the $30 Face Challenge!
I went shopping at Meijer for my products. I find that Meijer usually has a good selection of super affordable brands such as NYC and Wet and Wild, plus they tend to have good sales. I essentially included everything needed to do the challenge in my thirty dollars, so that means I had to use the little applicators that came with the packaging.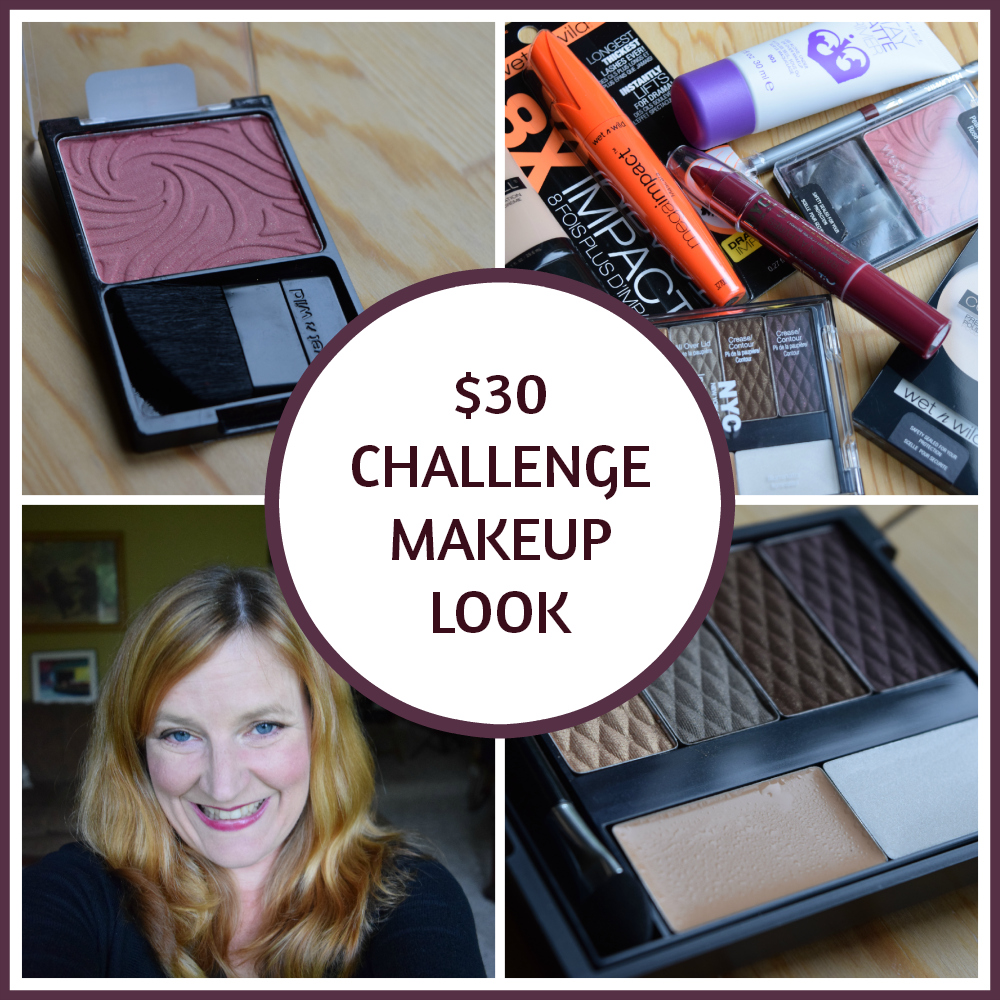 Here is a list of the products I chose, the prices, and what I thought of them.
Rimmel Stay Matte Primer, $6.29: This was my splurge item. It also was a great find for me. This lotion-like primer worked wonderfully and did indeed keep me staying matte. It says it can also be used over makeup, although I question how to do that without it messing up what you have on. I used it under my foundation. At its price, it is a great buy!
Wet and Wild Coverall Foundation in Fair/Light, $3.79: This is a fairly good coverage foundation. I felt that it didn't apply real well, but then, given that I had to use my fingers, that was perhaps a factor. Once it settled in, it looked perfectly good and I was happier with it than I have been with other more expensive drugstore foundations. I wouldn't trade my high end stuff for this, but for anyone on a budget, it is quite serviceable. It also built up pretty well, so I could use it in place of concealer under my eyes.
Wet and Wild Blush in Pearlescent Pink, $2.99: This was my least favorite product. It did have good pigment, which is nice, but it was hard to blend and applied very harshly, leaving harsh looking edges. Some of this may have been a function of having to use the rather crappy little brush that came with it. But, the next product came to the rescue with that, read on….
Wet and Wild Coverall Pressed Powder in Fair/Light, $2.89: I loved this pressed powder! It gave a nice amount of extra coverage and did a good job of setting my makeup. I also used it to buff out the harsh edges of my blush, and it working amazing for that! The included pad with it was sufficient for application as well. This item is definitely a good buy.
NYC Individual Eyes, Smokey Blues Palette, $4.69: NYC has a bunch of eyeshadow palettes formulated for different eye colors. You get 4 shades, a primer, and an illuminator. I have mixed feelings about this one. On one hand, I like how it includes so much for so little money, and the shades are pretty nice. The primer also was fairly effective. But, the shade best used on the lid seriously lacked pigment, and the illuminator was not really at all attractive on the skin.I had to pack on the shadow to get a good look with this and then it was kind of hard to blend. I ended up using a Q-tip for blending. Perhaps with brushes it would have worked better.
NYC Automatic Lip Liner Pencil in Brown, $2.99: Funny thing here. I grabbed this thinking it was an eyeliner! So, I also used it as such. It worked just fine as one, but apparently it is really meant for the lips, lol!
Wet and Wild Mega Impact Mascara, $3.99: This is an OK mascara. It went on rather thin, but that also meant there were no clumps. I had to put on a bunch of coats though to really get any good length, In the end it looked nice, but was a lot of extra work.
NYC City Proof Intense Lip Color in Grammercy Park, $2.99: AWESOME FIND! This super pigmented long wearing lip crayon is simply awesome. I love the color and it wears super well, plus feels super moisturizing. I intend to go buy more of these! At $2.99 it is a fabulous buy.
Total: 30.62 (It was 29 something when I added it up in the store, so I think I got cheated out of a sale price somewhere!)
Here is the final look.
And a photo with my assistants who are always around when photography takes place.
See more thirty dollar face looks at the links below!
[inlinkz_linkup id=436671 mode=1]