Are you ready for the 2013 Urban Decay Holiday Collection? I am! The press releases for this just showed up, so I am grabbing some photos and info from them. Here is the Holiday lineup from Urban Decay.
Urban Decay Face Cases
There are two gorgeous limited edition face cases with enough product to do your entire face. I absolutely want both of these, although anarchy is my priority I think. I love the shades in it!
Anarchy
The ANARCHY FACE CASE CONTAINS:
EYESHADOW:
*REDEMPTION – deep gunmetal satin
*FRAY – warm mauve matte
*VAPORIZE – deep metallic gray-taupe shimmer
PROVOCATEUR – light metallic mauve shimmer
with multidimensional micro-glitter
*REVOLT – bright metallic silver shimmer with
silver micro-glitter
BLUSH
FETISH – mauve-pink
QUICKIE – bright pink
HIGHLIGHTER
*CRAZE – pale gold shimmer
The case also includes a full-size Super-Saturated High Gloss Lip Color in the exclusive shade Scandal (bright metallic
raspberry shimmer) and a travel-size 24/7 Glide-On Eye Pencil in Perversion (blackest black matte).
Shattered
SHATTERED FACE CASE CONTAINS:
EYESHADOW
*NAMELESS – medium gray-brown satin
*REMIX – rich purple shimmer with tonal
micro-glitter
*SHAKEDOWN – rich brown-gunmetal satin
*MINOR SIN – champagne-pink satin
*BLEACH – yellow-beige matte
BLUSH
*OVEREXPOSED – dusty rose
*TEMPER – soft baby pink
HIGHLIGHTER
*GLINT – soft pink-champagne shimmer
Also included are a full-size Super-Saturated High Gloss Lip Color in Lovechild (cool pink cream) and a travel-size
24/7 Glide-On Eye Pencil in Zero (zealous black cream).
Vice 2
I loved the Urban Decay Vice Palette and anyone who did not get it was seriously missing out. Now Urban Decay is at it again with Vice 2 for the holiday season. As with the first edition, this palette has 20 new shades. It isn't often you can get 20 new shades at once, so grab this one while you can!
Vice 2 Contains the following shades:
SMOKEOUT – dark taupey-black satin
LOVESICK – black matte with iridescent micro-glitter
SHELLSHOCK – bright metallic silver
COAX – medium metallic pink with golden iridescent
micro-sparkle
X-RATED – baby pink satin
PRANK – deep navy matte with turquoise floating pearl
MADNESS – bright metallic blue shimmer with blue
micro-glitter
ST RIKE – antique gold shimmer with silver micro-glitter
ST ASH – deep olive green shimmer with iridescent
micro-sparkle
POISON – charcoal satin with iridescent micro-sparkle
RADAR – metallic brown shimmer with iridescent
micro-glitter
DAMAGED – bright metallic emerald shimmer
VOODOO – metallic purple shimmer with iridescent
purple micro-glitter
BETRAYAL – bright purple satin with blue shift
DERAILED – medium metallic taupey-brown shimmer
DOPE – warm champagne satin
TOXIC – metallic copper-pink shimmer with tonal
micro-glitter
HABIT – light nude matte
AMBUSH – metallic brown satin
REWIND – medium brown matte
Black Market 24/7 Glide on Eye Pencils
This is a nice set of 6 mini eye pencils. Urban Decay's 24/7 pencils are one of my favorites.
Contains:
*WEST – dark brown pearl
DESPERATION – deep taupe-gray matte
*BLACK MARKET – charcoal black satin
*RIOT – smoky gray matte with violet and fuchsia micro-sparkle
*APATHY – metallic olive green shimmer
*INK – deep navy blue satin
Ocho Loco 2
I got the Ocho Loco set last year and was very happy with it. Here is your chance to have 8 full size 24/7 eyeliners.
Contains:
ROACH – deep copper brown shimmer
*TWICE BAKED – rich brown satin with gold micro-sparkle
*CRAVE – deepest, darkest brown-black matte
PERVERSION – blackest black matte
DEEP END – bright metallic peacock shimmer
*MARS – bright metallic green shimmer
*ULTRAVIOLET – bright blue-violet shimmer
*TORNADO – dark eggplant pearl
Heavy Metal Glitter Eyeliner
This glitter eyeliner set looks pretty intriguing. I'm not incline to grab it at my age, but for anyone who loves a glitter eye look, it could be perfect.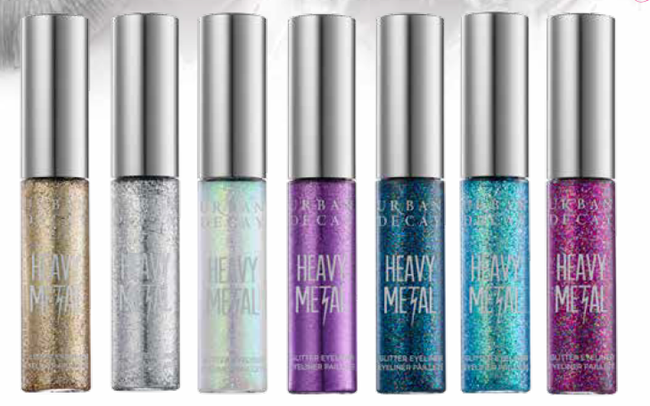 Contains:
MIDNIGHT COWBOY – beige glitter
GLAMROCK – silver glitter
DIST ORTION – iridescent glitter
ACDC – bright purple glitter
SPANDEX – deep blue-black with iridescent glitter
AMP – light blue with iridescent glitter
JUNKS HOW – bright pink with iridescent glitter
All of these will be at Sephora, with the exception of the Naked Powder, which is exclusive to Ulta.