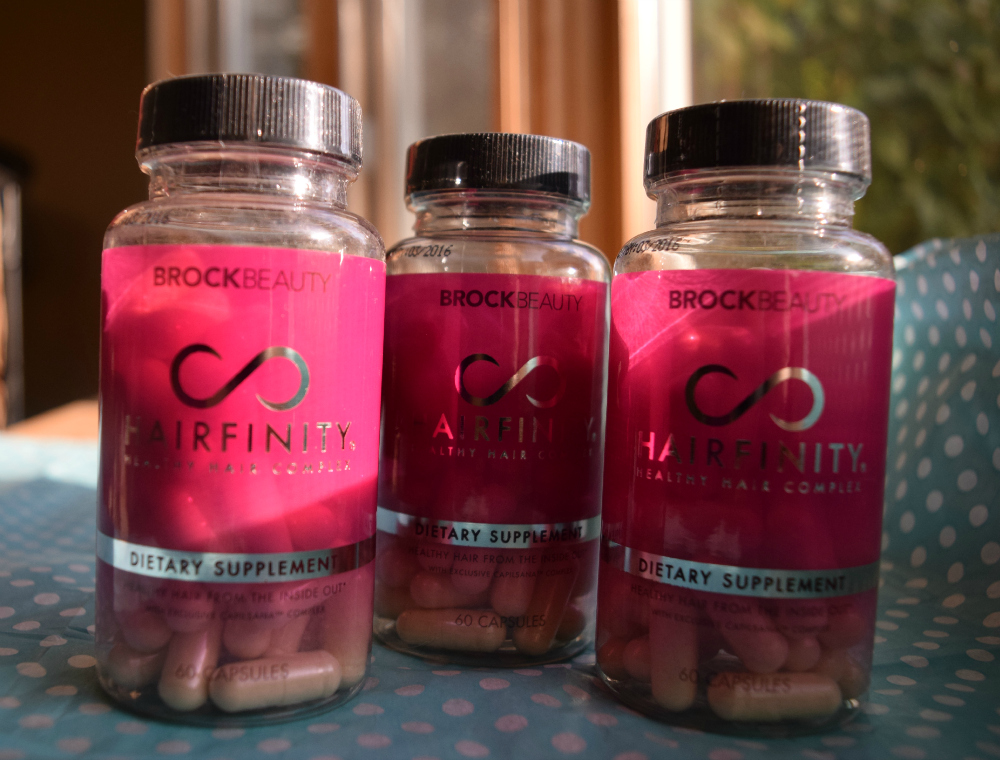 Hairfinity vitamins are hair growth vitamin supplements that has been getting a lot of attention among celebrities (for example the Kardashians use it). I'm pretty darn obsessed with my hair and I am always looking for ways to improve it, so I jumped on the chance to give hair growth vitamins a try.
What Ingredients Are in Hairfinity Vitamins?
Hairfinity Hair Vitamins contain a mix of supplements aimed at increasing your overall hair health. Among the ingredients are:
Vitamin B complex: B Vitamins are commonly used to foster hair growth. I also like B vitamins for skin care.
Biotin: This ingredient helps produce keratin, which in turn, increases hair elasticity. It also can help thicken the hair. As an aside, it is also great for healthy fingernails and nail growth!
Antioxidant supplements: Antioxidants such as Vitamin C are believed to stimulate hair growth. They also are great for your skin and overall health.
Vitamin D: This helps prevent hair shedding-something I particularly tend to have issues with.
Silica (Horsetail Extract): Silica helps maintain collagen and elasticity.
MSM: This is great for promoting healthy collagen and keratin.
There is nothing in the ingredients that gave me concern. In fact I liked that several of them can do double duty by also being great for nails and skin. But, there is some skepticism about the question of do hair vitamins really work? You can see a bit about that here. I, however, feel like I get results from them.
Hairfinity Review
It seems that a common question is if you can take two Hairfinity pills at once. Hairfinity is taken as 2 capsules per day. I took mine twice per day (one Hairfinity vitamin pill in the morning and one Hairfinity pill in the evening), but you could take both capsules together once per day. A common question is can you take Hairfinity and Biotin together? I would not particularly recommend taking Hairfinity and Biotin together because Hairfinity already includes biotin. Learn more about biotin here.
I used Hairfinity vitamins for about 5 weeks and felt that I could tell a difference in hair strength. My hair tends to shed quite a bit and that definitely decreased for me. I definitely saw growth too, although my hair has always grown pretty fast. Iam looking forward to using it longer to see what the effects are after several months of use.
Hairfinity Before and After Photos
Below are Hairfinity before and after photos. I did get my hair colored and cut during the time I was taking hairfinity, so while I had growth, it also got trimmed up! I do think my hair looks less frizzy and bit more smooth in the after photo, which is in line with me noticing less shedding and better condition overall.
You can see more before and after results here.
Overall, I like the Hairfinity product. It is a nice mix of vitamins that are easy to take and can have some nice overall effects on your appearance. You can order it at the the Hairfinity Vitamin.com.
Want more ideas for taming your frizzy hair or dealing with thinning hair? Try these posts:
Tips and Tricks for Taming Frizzy Hair
Apalus Hair Straightening Brush
Brand Statement: Hairfinity is a nutritional supplement formulated with essential nutrients for healthy hair. This hair specific formula contains Vitamins A, C, and D, a B-Vitamin Complex, Biotin, MSM, and more. Hairfinity is clinically proven to increase the hair growth rate by 155% while decreasing shedding. Two capsules are taken per day, and each bottle contains a one-month supply.
Disclosure: This post was sponsored by Hairfinity through the Tapinfluence program. However, all opinions are my own. This post has been updated to include non-sponsored information.
.