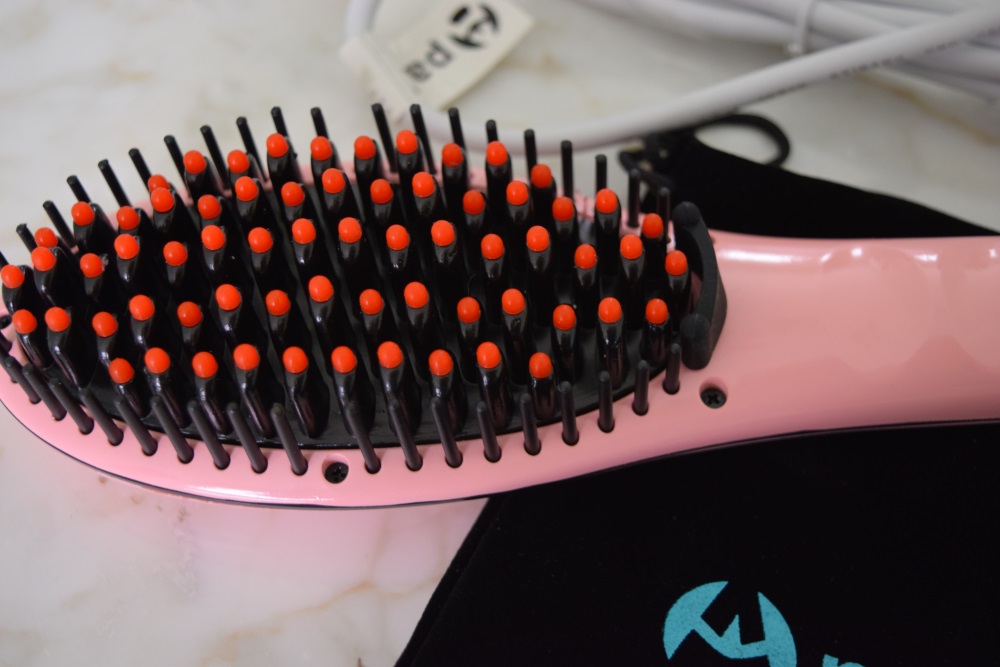 Awhile back, there was a video passed around Facebook of the Dafni heated hair straightening brush. It looked amazing, and I tried to buy one on eBay for close to $300, but the sale fell though. Then someone asked me if I had tried the Apalus Hair Straightening brush, which looked similar and is a heck of a lot cheaper at right around $40. So I ordered one and gave it a test. I like it a lot, although it isn't flawless.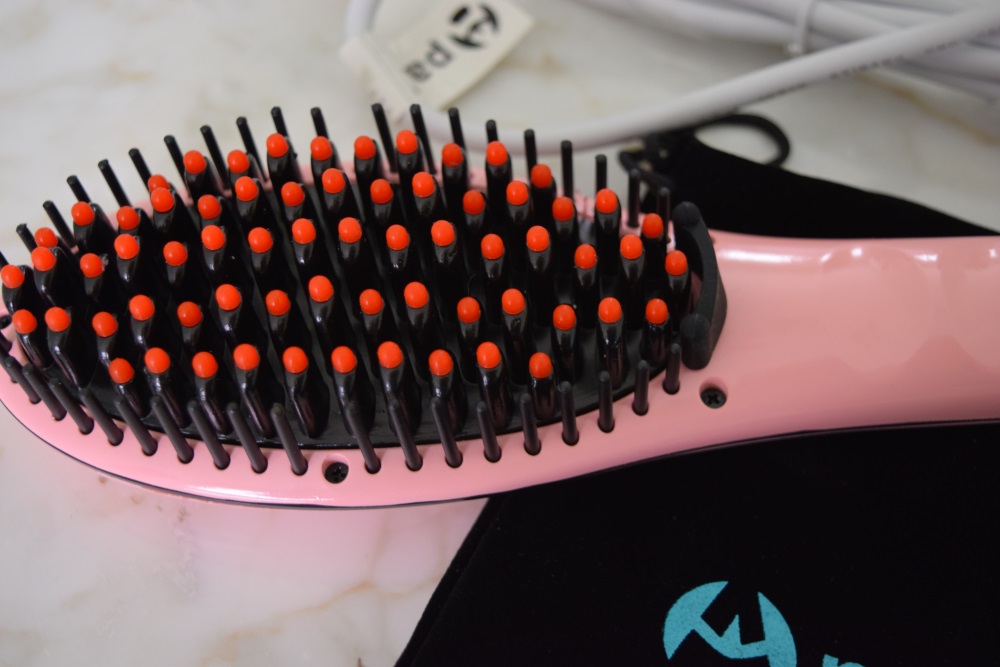 In order to test the brush, I washed my hair and let it air dry, which normally results in wavy hair. I have fine hair texture, but a lot of it. My hair is also  color and keratin treated. The Keratin helps cut down on waves some, but mostly I get that done to prevent frizz. Here is a before selfie taken in my home office bathroom, which doubles as a hair and makeup testing room.
I plugged the brush in and quickly found that to turn it on you have to press AND HOLD the on button. I kept clicking it and wondering why it wouldn't turn on! I set it to the recommended temperature for fine hair, waited a couple of minutes for it to heat up, and then I was off and brushing! I did section my hair by pulling the top up and doing the underside first. Have you ever tried to juggle a brush and camera for a selfie at the same time? It is hard!
The brush worked beautifully and it only took about 5 minutes for me to do my entire head. It would take 15 minutes or more for me with a flat iron. Plus, I often can't quite get the back of my head done right with a flat iron, while it was super easy with the Apalus brush. To use it, I simply pulled sections of hair tight and ran the brush down them. At the end I just brushed it through my whole head as I normally would use any brush. The results were pretty darn good. Better than I get with a flat iron and a lot faster! Here is my after shot.
So, overall, I really like this product. But I did have a few issues with it. First, the brush, being heated and all gets hot. OK that is expected, otherwise it would not work. But, if you accidentally touch the sides of it while using it, there is a slight burn risk as there is nothing to really guard you from contacting the heated area. Basically, be careful using it! I tend to instinctively put my hand on the bristles of my hair brushes, and I had to be a bit careful about that so as to not accidentally also touch the heated surface.  My bigger concern though was durability. After I used it I had a bent bristle.
I wasn't too thrilled about a bent bristle after the first use. However, I was able to generally bend it back into place.  It also doesn't stop me from recommending the product since I think it works really well and it a great price for what it does. However, I would caution those with really thick of coarse hair to use it gently because if my fine hair could bend it, I image it would be even more fragile with thicker, coarser hair.
I will note that the Amazon reviews of the brush are generally pretty good with people with curly hair and ethnic hair also reporting good results. However, other have reported concerns with quality and location of controls. Also I seem to not be the only once who couldn't figure out how to turn it on. You have to press and hold the button for several seconds.
I still really want to try the Dafni brush as a comparison. I'm working on getting my hands on one!
Buy the Apalus Hair Straightening Brush and/or Read Consumer Reviews at Amazon.com