It is high time that I updated my Silk'n Flash and Go review. I have covered a number of the Flash and Go products over the years and a lot has happened since then with the Silk'n products. There are now multiple Flash and Go products including the Flash and Go Express, Flash and Go Jewel and Flash and Go Compact. The products are similar, and this review is now being updated to focus on the express.
I have also covered the Tria laser extensively and if you are not sure which to get between the two, see my quick comparison here: Tria v. Flash and Go.
Silk'n Flash and Go Review
Until now, home laser hair removal for the face for was not available as an approved use in any home devices. The Silk'n Flash and Go home laser hair removal device, available at the Silk'n Website, changes that. The Flash and Go is designed to treat a smaller area with each light pulse, and it is FDA cleared for use on facial hair. It also can be used on the legs, bikini line, underarms etc, and is a similar device to the Tria laser and other home devices but a bit smaller in area covered.
The big upside of the Flash and Go is that it is cheaper that some competitors at $299, so if you don't mind a few extra minutes of time when doing treatments, it can be a way to save a bit of money over one of the more expensive devices. There are smaller models too that cost even less. Consumer Silk'n Flash and Go reviews have generally been favorable.
How The Silk'n Flash and Go Works
The Flash&Go uses Home Pulsed Light(HPL) technology to target pigment in the hair shaft. Over multiple uses, the pulsed light laser will deaden the hair follicle and result in permanent hair removal. Because pulsed light targets pigment, it is only safe for use by those with lighter skin, and the ideal candidate will be a person with light skin and darker hair. As a safety precaution, the Flash and Go includes a skin color sensor that is built into the device which measures skin complexion before each treatment session and at occasional points during each use. The sensor enables the device to be used on only the appropriate skin tones.
All home laser hair removal devices take a number of treatment sessions in order to show results. Typically, a user can expect to see permanent hair loss after a period of around 6 months, but the time may vary. Do not expect immediate results with either home of salon/spa laser hair removal.
Using the Silk'n Flash & Go
Using the Flash & Go Express is easy. Before treatment, it is important to shave (do not wax) the area to ensure that the energy of the Flash & Go Express goes directly to the hair follicle root. Then, simply apply a series of pulses to the area where you wish to permanently remove hair. Silk'n recommends that you do a treatment every one to two weeks for the first two months then go to monthly as needed until the desired result is achieved. Normally people start seeing results in three to four treatments.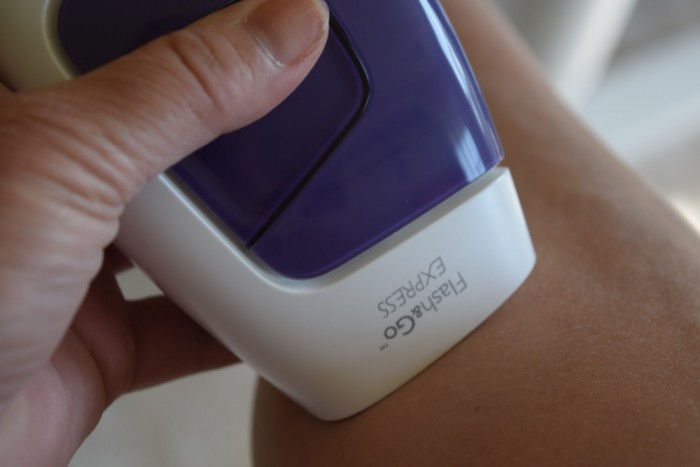 Does the Flash and Go Work?
So, does the Flash and go work? For me it did. I first had been using the Tria on my legs and then switched to the Flash and Go Express when it came out because I preferred its compact and easy to hold size. I also used the product on some chin hairs and it worked quite well for those.
The primary benefits of the Flash and Go over other laser devices is its ability to be used on facial hair and its lower cost. Because lasers can damage the eyes, most home devices are not approved for use on facial hair. The Flash and Go, however, has been FDA cleared for that use. Because it treats a smaller area with each light pulse, presumably it presents less risk to the eyes. Be sure to follow all safety instructions included with the device. Overall,the Flash and Go will be much cheaper than salon or spa laser hair removal treatments and it runs about $100 less than the popular home lasers such as the Tria
Flash and Go Complaints
I am not aware of many serious Flash and Go complaints. To the extent I have seen some, they are normally complaints with the amount of time it takes to see permanent hair removal or that the device can't be used on darker skin. Because the Flash and Go treats a smaller area with each light pulse, meaning that for larger body areas, such as the legs, it will take longer to use. As previously noted, most of the Silk'n FLash and Go reviews seem to be pretty good.
Alternate Names for the Product
You will sometimes seen the Silk'n Flash and Go under the following terms. Heck I use a lot of them interchangeably myself.:
My Flash and Go
FlashAndGo
Flash n Go
Silk'n Go
Silk Flash and Go
Silkn Go
Flash&Go
Flash & Go (this is actually the official spelling, but I see so many more people write out the "and")
They are all the same product.
Where to Find It
Get it at the Silk'n Website, which often has a a sale going on, making it the most affordable place to buy: Shop for the Flash and Go
In the alternative, you can also find it on Amazon.
So, that is my Silk'n Flash and Go review. Have you tried home laser hair removal or or IPL hair removal?