Disclosure: This is a sponsored post on behalf of Silk'n
Update: Here is the current 2016 holiday and black Friday and cyber Monday and end of year deals for the Silk'n site.
Silk'n is kicking off Black Friday early this year with a 25% Off site-wide coupon on orders of $99 or more! This includes their most popular products like the Flash&Go Express Hair Removal Device, FaceFX Anti-Aging Device, Blue Acne Treatment Device, Revit Microdermabrasion System, and more! Runs until Dec.
Click here to go to the Flash and Go site and enter the code HOLIDAY25 at checkout.
A few months ago, I told you how you could join the #NoShaveWave by using the Silk'n Flash & Go Express for easy and home hair removal (see previous post). HPL hair removal is a great way to get permanent hair removal in your own home. You get the benefits of luxury spa treatments at a better price and in your own home. It also is a heck of a lot more chic than shaving! I've been using the Flash&Go Express for awhile now and really love it.
How the Silk'n Flash & Go Works
The Silk'n Flash & Go Express is an innovative light-based device for permanent hair removal. It can be used on the entire body, including the face, anywhere from the cheekbones down. It is an easy to use and affordable solution to hair removal. The Flash & Go works by emitting a pulse of energy (HPL) which is absorbed by the pigment in the hair shaft. The hair is targeted by the pulsed energy and disabled, preventing future growth. After a series of treatment sessions, users report less hair growth, and eventually the hair will cease to grow. Because it targets pigment, it works best on lighter skin with darker hair. People with darker skin should use a lower energy settings. The Flash & Go also has a skin color sensor as a safety feature, so it will not emit a pulse of light if the skin is too dark. The Flash & Go plugs into the wall, so there is no need to worry about recharging a battery.
My Flash & Go Results
I have been using the Flash & Go Express for a while now on some facial hair, and had previously used HPL technology on my legs. I started seeing results on my legs within about a month, with noticeably thinning hair, and I achieved nearly permanent results after about 6 months. Using the Flash & Go Express on my stubborn chin hairs has been great. I am a perfect candidate for that since the hairs are dark and my skin is light. The Flash & Go express is also nice and compact, so it is easy to use on the chin area. I'm pretty sure I have already permanently gotten rid of most of the problem hair there. No more tweezing!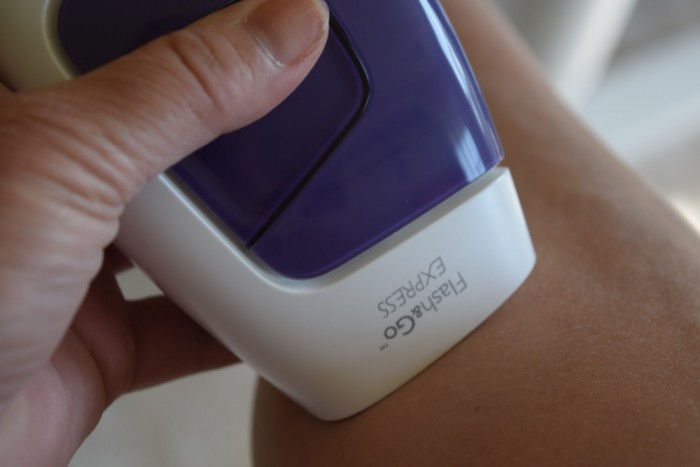 Silk'n Flash & Go is is beautiful technology, allowing you to experience your own luxury hair removal at home.
Join the #NoShaveWave yourself and be Silk'n not shaven!
Learn more about the Silk'n Flash & Go Express
.
Would you like to quit shaving? Any funny shaving stories to tell?