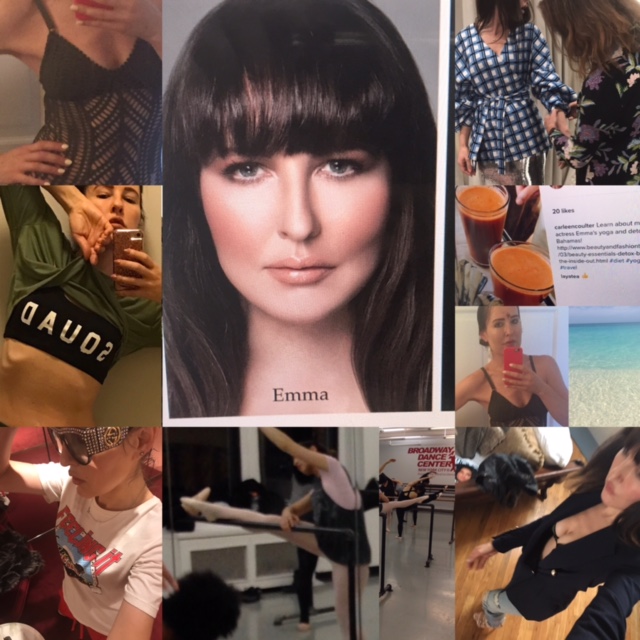 Hello 2018 and hello winter wonderland….I'm so full up on love after spending quality time with my two favorite people, my mum and dad. However when I landed back in NYC my skin was greeted with arctic temperatures and clearly needed extra loving. So today I'm sharing my skincare must haves that will keep you glowing as we navigate this bi polar winter…..
The key to combating dry skin is moisturizing. While it's easy to remember to moisturize externally as we see our skin, we don't see inside our body and the need to moisturize internally. So if you are moisturizing and your skin is still dry it could be dehydrated. Drinking filtered water is just as important during the winter months. I have to continually remind myself to drink more water. One trick that helps is adding chia seeds and letting them form into a gel like consistency and then drink. So you get added skin benefits when drinking water from this skin loving superfood. Can I get an Amen!
I've discovered new gems for 2018 and if you are a dedicated beauty essentials lover you will recognize a few beauty regulars. The star of that list is Skin Food by Weleda. I love the smell of this moisturizer as much as the results. When winter is in hardcore mode and my skin needs a barrier to protect it against the elements this is my go to product. As an added bonus, it doubles as a fabulous primer. Another staple is Acure Brightening Facial Scrub. Because even when it's cold, our skin still needs to be exfoliated. I'm a lover of Acure Skincare and seem to always return to this scrub as it's gentle enough for sensitive skin. I've said it before and I will say it again…Face sprays! Face sprays! Face sprays! Carry them when you travel, when at work, when out and about and while at home have them on standby. My winter go to face spray is the Tata Harper hydrating Floral Essence. This moisture boosting toner with 21 high performance ingredients delivers moisture while creating a plumper looking appearance….oh we love that! Wink to the camera…..
Now let me introduce you to my new friends. They can sit with us! Que the music…..One of my all time favorite skincare brands is Tata Harper. I recently started using the Beautifying Face Oil and my skin drinks it up and the results just make me smile as I see the glow. As a side note I love layering skincare especially in the winter, this oil works great under a moisturizer when it's seriously cold. Don't forget your eyes need loving too and this delicate area needs it's own moisturizer. I tried an eye serum when with my mum recently and I fell in love with how it made my eyes look. While at Origins I tried the Dr.Andrew Weil for Origins Mega-Mushroom Skin Relief eye serum and I'm now a fan! The main ingredient, Reishi Mushroom, I already take internally and this wonder serum also includes; turmeric, ginger and holy basil. Which I take internally also. Double up on skin loving ingredients that's what I say. Tackle it from the inside out and the outside in….warrior mode.
How do we erase a pimple without drying out our skin during the winter months…..I recently faced a model nightmare, unwanted visitors right before a photo shoot. So I turned to Juice Beauty's Blemish Clearing Serum. This little bottle of healing liquid is a blemishes enemy and my best friend. However this time I needed backup! What?! No I hear you cry…..Yeap, I was dealing with a serious pimple that wanted prime real estate on my face. So I brought in Organic Neem Seed Oil by Neem Aura Naturals. Now let me just give you a warning…this smells ! And it is not a sexy smell. However it works! Staying in my warrior mode I supported this by taking Neem and turmeric internally with DermaCare by Himalaya. Yes I was determined to combat this and was in full combat mode…..ha ha. I also drank more water and took probiotics to make sure my digestive tract was supported. And boom….my skin was camera ready! Your body needs loving too – I still swear by coconut oil and use it every single day to moisturize my whole body and keep my skin smooth and radiant. So there you have it, happy glowing skin during the winter months.
Let's step into this spectacular new year looking and feeling our best and that includes a healthy mindset as much as a healthy body…..self love is self care. We got this!
About the creator of Beauty Essentials.
Emma is a British actress,model and writer and studied at The London College of Fashion receiving her BA (Hons) in Broadcast. Modeling opened up the door to acting and Emma studied acting at RADA in London, Lee Strasberg in NYC and The American Academy of Dramatic Arts in NY. Beauty Essentials takes you behind the scenes into Emma's life as a model and actress. Sharing incredible beauty gems learnt along the way by the people that do this for a living. As a vegan, Emma's approach to beauty is from the inside out.
See all of Emma's posts here: https://www.beautyandfashiontech.com/tag/emma/
Directory.
All products are available at wholefoods.
Tata Harper is available at Sephora and www.tataharperskincare.com
Origins is available at select departments stores and www.origins.com