Urban Decay has a new foundation out for fall, Naked Skin. I got a sample packet of four shades in one of my Sephora orders. I had forgotten that I had it and then came across it right after another blogger recommended it to me (Thanks Phyrra!). So I was excited to try it!
Urban Decay bills this foundation as weightless and ultra definition. It is paraben free and formulated with anti-aging ingredients. It also has light diffusing particles to help soften the appearance of your skin. There are 18 available shades. Urban decay recommends applying it with their Good Karma Optical Blurring Brush, which is really just  fancy name for a stippling brush. I have a BH Cosmetics Round Stippling Brush that I am currently in love with, but the Urban Decay brush is getting good reviews and it is decently priced at $24.
I was a bit worried about coverage with Naked Skin since I have some melasma and hyperpigmentation, but that turned out to be no trouble at all. The foundation applied beautifully with my brush and I buffed it out as recommend to diffuse and activate the light reflecting particles in the foundation. The result was a rather flawless look and I was very pleased. I got good enough coverage, yet the foundation is indeed weightless. It feels like it has a bit of moisture, but I didn't get oily with it either.
Here I am wearing Naked Skin foundation.
Overall, I am very pleased and I plan on buying a bottle once I decide just what shade I should get.I found that 2 was too light for me and 3.5 was slightly too dark and too pink, so I mixed them together for a pretty good match. I suspect I would wear level 3 best. My sample packet came with a plastic matching tool with the shades on it, but it wasn't very effective and I wouldn't trust it.
Below are swatches of the four shades in my sample. These are applied heavy on my arm. They will appear lighter when blended.  From left to right are Urban Decay Naked Skin swatches in the shades 2, 3.5, 4, and 8  .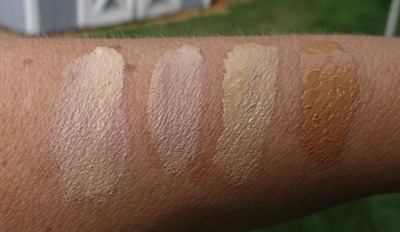 Urban Decay Naked Skin is $38, which is pretty par for the course with decent foundations.   It certainly is less than some of my super high end favorites and I like it just as well, if not better. I will definitely be purchasing this.
Buy Urban Decay Naked Skin Foundation