2012 is almost at its close and it is time again for the annual best of the year awards. The list below are my favorite products that I covered in 2012. Click through the links to read the original reviews.
You can also see previous years here: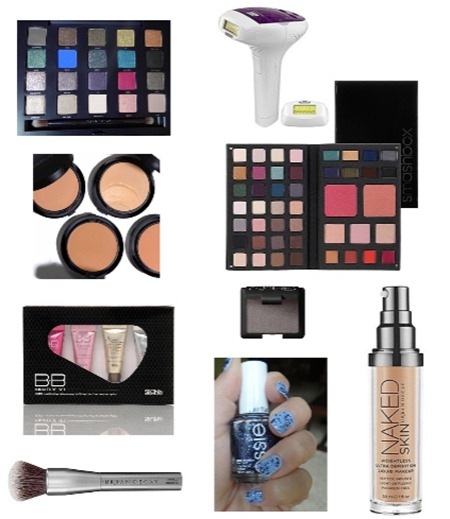 Urban Decay Naked Skin, with the Urban Decay Optical Blurring Brush: Naked skin wears incredibly well and, when applied and buffed with the optical blurring brush, it gives a flawless airbrushed look. It has become my all time favorite foundation.
Lorac Unzipped: This was the best of the nude/neutral palettes this year. A perfect selection of matte and shimmer shades.
Laura Mercier Artist Eyes Palette: A wonderful all around palette with shades perfect for just about any occasion.
Fyrinnae Eye Shadow: This indie company offers unique blends of high pigment micas and oxides for stunning shadow looks. Try their Pixie Epoxy for making super glittery shadows stay put!
Urban Decay Vice Palette: Who can resist a palette full of new UD shades? This one was a winner all around.
Nars Lahasa: Simply a beautiful purple dark taupe. Love it!
MAC Nail Lacquers: I love MAC nail polish and was glad to see them make a number of shades part of their regular collection.
Urban Decay Smoked Palette: Another winning palette from Urban Decay. This one offers all that you need for sultry smoky looks.
L'Oreal Infallible Eye Shadow: High pigment lightly pressed shadow at decent prices and readily available. Great for those who love pigments but want to save a few dollars.
Skin79 BB Cream: My favorite BB cream this year. It covers well and wears wonderfully.
Darling Girl Eye Shadow: Another indie brand with great pigment and a silky smooth formula. I like their base formulation quite a bit for a loose shadow. I also found a taupe that I am in love with among the samples that I ordered.
Cinderella Palette: A surprisingly good eye shadow palette that is more grown up than you would expect. Nice shades in an attractive package.
Lorac Pro Palette: Another wonderful all around eye shadow palette with a great selection of useful shades.
Essie Luxe Effects Top Coat and Bikini So Teeny: Bikini So Teeny was my favorite polish shade of the year, and a Luxe Effects top coat looked great over it!
The Balm Shady Lady Vol. 2: The Balm is seriously underrated in my opinion. The Shady Lady Volume 2 was one of their palettes that I tried this year and I found it to be super pigmented, with little fallout and long wear.
Youngblood Creme Powder Foundation: A very nice cream foundation that very well might have become my new favorite if Naked skin hadn't come into the picture. I still wear this one a lot too, especially when I want something more portable.
Silk'n Flash and Go: The hot new product in permanent home hair removal. This one can be used on the face.  See our comparison to the Tria for decisions on which to buy (I love the Tria too).
Smashbox Masterclass: A super palette of shadows, blush, lip products, and highlighters. It is all that you need for any look with quality products.